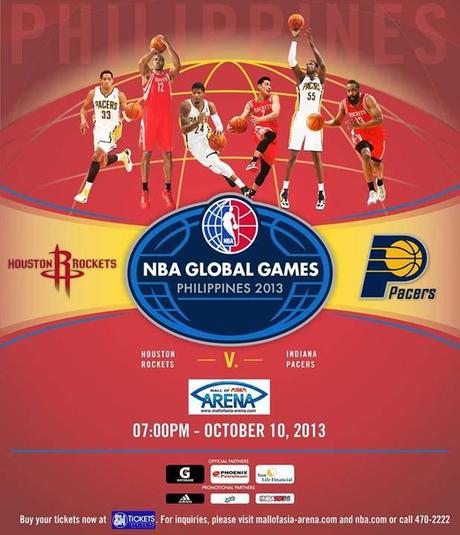 Two months before this epic NBA Global Games held at SM MOA Arena our CEO Eva Chen raffled off NBA tickets during our Technical University held in Crowne Plaza Ballroom and I was not that lucky to get one and I really envy those who got sure tickets for the first NBA game here in the Philippines. As the Houston Rockets versus Indiana Pacers game at the SM MOA Arena comes nearer and nearer I can't help but dream of getting one ticket and said that General Admission will do just to witness or experience to watch a live NBA Game.  In fact, it came to a point that I wanted to buy a ticket but not to a scalper of course and good thing I didn't because what happens next is epic.
Announcement of Free NBA Global Games tickets for TrendLabs Philippines employees.
On the day of the NBA Global Games where Rockets and Pacers will clash at SM MOA Arena, our Trend PH HR Team sent an email that they got 38 tickets to be raffle off and this was given by our CEO Eva Chen's close friend Shirley Lin who is the mother of Jeremy Lin 2nd string point guard of the Houston Rockets and popularly known as "Linsanity". To qualify for the raffle, all Trenders who is still at the office just need to give their names at the reception before 3:30pm and they will start raffling off the tickets and I went there 4 minutes before the deadline. They say that the winners will be notified via email after 3:30pm. While waiting for the raffle winners, I keep on saying to my team mates "I feel lucky today I will win that NBA ticket" but no email on my inbox after 3:30pm onwards. I waited until 5pm and still hoping that HR will email me but with no success. We are suppose to run that day for a weekly exercise but it rained hard so we have to cancel it out and we decided to eat ice cream at 7-11 store.
That lucky moment that  I am waiting for has arrive. 
After we eat ice cream we hid back to the office and our security guards telling me that our HR staff is looking for me and I thought it is for the upcoming 2013 Family Day and Halloween party but to my surprise it was about me winning that NBA ticket that I am wishing for. When I get back to my production machine I received many pop message on my MS Office Communicator looking for me and telling me that I won that ticket. The game will tip off 7:30pm and they notified me 6:30pm and the situation is this, the place is SM MOA Arena it is rush hour time and it is raining really hard outside and the first thing that HR asked me if I will still go to the NBA Game without any doubt I said "Yes Ma'am, I will go" knowing that I might not first half of the hard court action or worse the entire game. The instruction is to print out the email that were sent to me and show it to one of our security personnel deployed at the entrance of SM MOA Arena so I did and while reading the emails I found out that I was not the original winner of the said ticket. Here's the story, the first winner said that he can't go and told HR to re-raffle it off so they did but the 2nd winner of this ticket said that she can't go either because of the dilemma of going to the venue so they had to re-raffle the ticket again and this time it was me that was pick as the winner. In short, the ticket is really for me, thank God and thank you Trend Micro for this.
The thrill of going to SM MOA Arena to experience live NBA action.
Despite time constraint, heavy rains, rush hours, flooded streets and apocalypse like scene in MRT Ortigas Station and not to mention heavy traffic jam on my way to SM MOA Arena no one can stop this basketball addict from going to see the hard court action. It was 6:40pm when I attempted to wait for a jeepney going to Edsa-Robinsons but to no avail so I my plan B is to walk it off or run so I did. From The Medical City I run going to MRT Station even though heavy rains are everywhere that flooded the streets of Ortigas but it didn't matter to me I run through the rains and floods with my umbrella on just to get to the train station. Raining hard and floods is not an issue for me after all because I get used to it, in fact way back when I am just attending school in our province in order for us to go to my Alma Mater during typhoons we need to cross a mini bridge that is usually flooded and it was like 1km stretch of trail road.
My next adventure is beat rush hour and get in MOA Arena before half-time so my best bet is to ride the train from Ortigas Station to Pasay Taft Station then ride a bus or jeepney going to the Arena. I am soaking wet when I arrived at the station and good thing my underpants isn't. Hahaha

I lined up and waited for the next train to arrived. All train cars are full of passengers like sardines but I said to myself that day if I don't ride on it now I will lose a valuable time waiting for the next car so I force my way up to the MRT door inserting myself like one of the sardine good thing I am wet they made way for me so I was able to get to the middle. Hahaha
At the Taft Station, I run like hell trying to outrun and overtake all the people in front of me like the hordes of zombies are rushing in to eat us alive. I used the stairs to go down and I am not surprised anymore if there would be floods due to heavy rain. I waited for a Jeepney or bus going to MOA but because of the flood nobody stopped so what I did is walk through the flood praying I don't get Leptospirosis and quickly hop in at the back of the Jeepney where others are hanging on like monkeys on a monkey bars.  A huge file of cars in front of me I can now see the SM MOA Globe and I was thinking of running going to the Arena so I did while texting Manong Guard for the ticket and he texted back saying he's at the Coral Way Blue Entrance so I went there double time.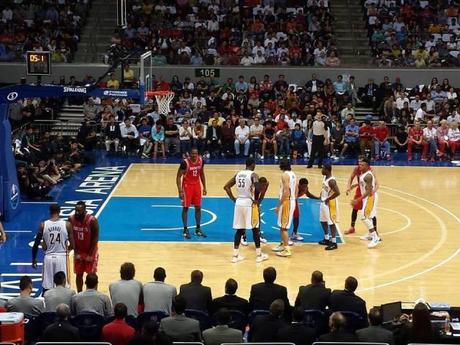 I gave him the printed email as confirmation that I am a raffle ticket winner and then rushed to get inside to my surprise and I couldn't believe it on my hand is a Premium A ticket and I was expecting it was an Upper Box or General Admission ticket so I jumped for joy and while getting inside at the stands I accidentally inserted my right hand at the handle bar of the doors that full me back a bit and the gate-keeper is laughing at me I just smiled and said "I'm sorry, Excited lang po". I sat at row 218 seat 15 together with fellow Trenders. Before I was able to sit down I wowed Demont Monteyunas (pronounced Mon-tee-You-nas) dunk and bit worried because he fell down hard at the wooden court, when he get up every cheered for him. Oh by the way, I was able to get inside the Arena with about 8 minutes of the 2nd Quarter that triples my happiness. Then what happened next is epic, I was star struck because it is the first ever NBA experience for all Filipinos that cannot afford to go to the U.S. just to watch it. I saw many NBA legends, Rockets & Pacers active players and coaching staff. I saw Jalen Rose at the NBA Global Games booth when I go to the rest room to take a pee and get my free NBA Polo Shirt, Caramelized Pop corn and free SM MOA distilled bottled water then at the opposite side of the court there's Robert Horry, Larry Bird, Ron Harper. The NBA experience didn't have dull moments, they are giving our souvenir items, there are half time shows by both Pacers and Rockets Cheerleaders with their sexy outfit.
At the half time, I texted my running buddy Josh informing him that I am seated at the Premium A side and texted back. They said that they will go down to see me at the 218 lobby. At that moment when we see each other at the 218 lobby Justin and Josh wanted to get in at the Premium box too so I told them let's go but remind them to act normally and walk straight following me and without no trouble we got in. My joy of winning a Premium A ticket was shared to my 2 friends and fellow basketball addicts and I couldn't count many thank you's coming from the two.
That's me and Josh. Am I a photo bomb here. Haha!  (Photo taken from Justin Nicolo's Smart Phone)
Josh enjoying the closer look at the NBA Players (Photo taken from Justin Nicolo's Smart Phone)
Justin showing thumbs up (Photo taken from Justin Nicolo's Smart Phone)
This is me , thumbs up on a More Fun in the Philippines shirt. (Photo taken from Justin Nicolo's Smart Phone)
I really enjoyed the game and it is truly a memorable one. The Houston Rockets won the Pre-Season games that day and Jeremy Lin was the starstruck Filipino crowd and they said that Dwight Howard was booed at the first quarter and James Harden was the Best Player of the Game.  At the end of the game, we are like head hunters looking for players but we ended up having photo opts with PBA Players of the likes of Ali Peek, Gary "El Granada" David, celebrity host of "Ang Pinaka" Rovilson Fernandez and real life husband and wife Patricia and Vince Hizon with their kids. We didn't got a chance to take a picture with Vince Hizon because he seems really tired. We visited booths especially at the Highlands Coffee then we hid back to the office to sleep for tomorrow shift.
With Salomon Trail Running Buddy and host of "Ang Pinaka" Rovilson Fernandez
It was nice bumping into TNT's power forward Ali Peek. Ready for chest bump?
Top: Gary David with Justin and Josh
Down:  Me with El Granada (Sorry the picture is a bit blur) Photos are taken from Justin phone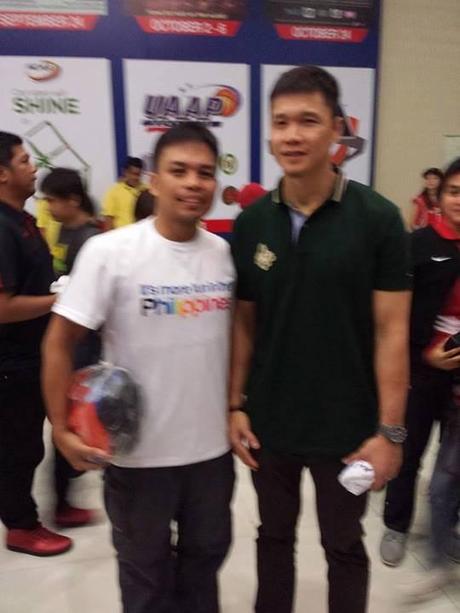 16.033333
120.550000