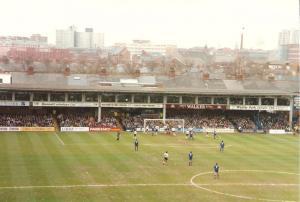 Leicester City 0 – 4 Manchester United
The Premier League
Filbert Street, Leicester
April 15th 1995
Attendance: 21,281
My father was a devout egg-chaser. Competing in the local Rugby Union leagues on a Saturday afternoon meant that my football fix as a youngster came from Grandstand and – if I was allowed to stay up late enough – Match of the Day.
My only footballing influences as a youngster came from my Uncle and Cousin who, unfortunately were Manchester United fans. For a while, this was to lead me down a path of red shirts and Ryan Giggs posters torn from Match magazine. But I never really felt comfortable as a Red Devil.
Fortunately, it wasn't long before I realised that I was Luke Skywalker being pulled to the Dark Side by my Uncle Vader and Cousin Moff Tarkin (although there was less killing and planet destroying). My home-town team Leicester City had been playing well in Division One, and with the whole city on a football-high, they capped it off with a Play-Off Final victory over local rivals Derby County. The Empire had started to fall.
It was only fitting that, during the Foxes' first foray into the Premiership, my Aunt received free tickets from her company to Leicester City's game against Alex Ferguson's reigning Premiership champions.
Upon receiving the tickets, I remember being disappointed that our tickets were for the "Double Decker" Kop rather than the season-old Carling Stand. I was even more disappointed when – after walking along Burnmoor Street, passing the electricity sub-station, and trekking up the stairs to the second tier – I found out that the "Obstructed View" printed onto my ticket actually meant that the East Stand covered the entire right side of the pitch.
Goals from Lee Sharpe, Paul Ince and an Andy Cole brace ensured that Manchester United ran out 4-0 winners, but the game couldn't have been fantastic as I don't remember a single one of the goals.
However I do retain a memory of the crowd holding it's breath as the ball fell to Mark Draper at the edge of the United box. And with a shot that made the Rebels glad that they didn't put him in charge of the laser for destroying the Death Star, Draper somehow scooped the ball right over the top of the North Stand.
I can still imagine that ball rolling down Filbert Street…
Ryan Hubbard
Twitter.com/ryan_hubbard