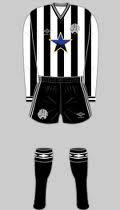 Many thanks to Historical Kits for picture
Newcastle United 0 Coventry City 1
St. James' Park
April 17th 1985
Attendance: 19,577
I had just turned nine years old, it was a sunny, end-of-season Wednesday evening, and Newcastle United were playing at home to Coventry City. It was the day that Manchester United beat Liverpool to reach the final of the FA Cup, exactly a week before Everton made the Cup Winners Cup Final, and just under a month until Heysel and the Bradford Fire. Not that I knew any of this at the time. Besides, I had enough to think about just trying to stay upright on a concrete crash-barrier.
We arrived before kick-off, climbing the zig-zag steps up from outside The Strawberry Pub, the doors of which men would famously topple out of five minutes before the game began. There was the smell of cooking hops and barley from the brewery next door, mixed in with open-air urinals, cigarette smoke, watery onions, eggy farts and beer breath. We found a place under the Gallowgate scoreboard, halfway up the open terrace, a little to the left of the goal. My Dad lifted me up on to the barrier, grabbing under my arms as the people in front shifted slightly to accommodate my dangling legs. I perched, precariously, reading the programme from cover to cover. "You're here to watch the match, not read that," my dad said, as my younger brother tried to peer round my elbow. Just then the crowd surged forward from the back and I clung on to the concrete, fearfully eyeing the edge of a stone step that was strewn with cigarette ends, gripping so tightly that for the rest of the half my fingers were spotted with pebbledash marks.
Newcastle, safely charting their first top-flight season since 1978, had Chris Waddle, Peter Beardsley, Glenn Roeder and Gary Megson in their starting line-up. A young kid called Paul Gascoigne, FA Youth Cup winning skipper, had made his debut as a substitute four days earlier against QPR. But Coventry, scrapping for their First Division lives, took an early lead which they never looked like relinquishing (they would go into their final three games eight points behind Norwich and win them all to send the Canaries down instead alongside Sunderland and Stoke).
"Howay, let's go," my Dad said out of nowhere. I looked around, confused because the scoreboard clock said there were still nine minutes to play. "Why?" I asked. "Beat the traffic," he replied, not for the last time (I never saw the end of a game until I was old enough to go to one by myself). The next day at school I kicked a battered caser around the playground, mimicking Waddle's shoulder feints, the Roeder Shuffle and Peter Beardsley's hunched, slalom-like runs towards goal. The Liverpool supporters looked on, unimpressed, waiting for the ball like they were Ian Rush.
Michael Hudson
Twitter.com/dolphinhotel