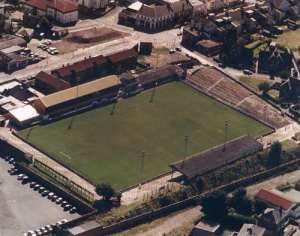 East Fife v  DumbartonScottish League Division
Bayview Park
8th October 1994
Saturday the 8th October 1994. That was a day that changed my life. I was 10 years old and had never really had more than a passing interest in football. I had loosely followed the World Cup in the USA that summer, and my Dad, a lifelong East Fife fan, decided to start taking me to the match following the ambitious appointment of former Barcelona and Spurs striker Steve Archibald as player/manager.
It was a cold, dry afternoon, and I was immediately immersed in the atmosphere of the now demolished Bayview Park, the black and gold scarves, the crumbling terracing, the distinctive smell of tobacco smoke, the pie and bovril, and the match programme that I took home and proudly pinned on my bedroom wall. My Dad reminisced throughout the match of better days when this old ground was packed with fans week in week out, and teams like Rangers and Celtic would get a tough time of it when they came to visit.
The match itself was entertaining (though looking back on the stats, different than I remembered it) with the Fifers eventually losing 3-2 to Dumbarton. Centre half Dave Beaton (a player I'll always have in any favourite East Fife XI nowadays) scored the first East Fife goal I ever saw. Despite the defeat I was hooked and couldn't wait to come back. I didn't have to wait long to be rewarded for my new loyalty as Archibald built a team that went on to win promotion to Division One in 95/96. Ever since then its been a roller-coaster journey, and I can now speak with a degree of experience in saying that is something that's unlikely to change in the (hopefully many) seasons ahead!
Matthew McLean
Twitter.com/slimbosquest