It's the first challenge at

The Craft Garden

,

and my first challenge there as a new DT member. The challenge is straight forward this month. April is the fourth month of the year so the challenge is FOUR however you choose to interpret it. Here's how I interpreted it: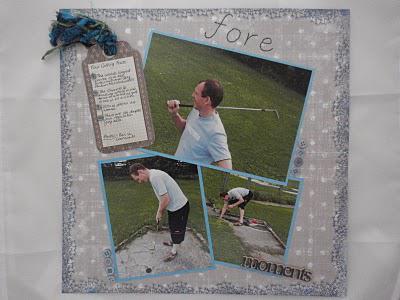 The first thing I thought of when I heard the theme 'Four' was golf & these photos I had of my husband playing crazy golf in Cornwall. As 'Fore' was not strictly 'Four' I added four interesting facts about golf & two sets of four buttons. This is a simple 12 x 12 layout but one that lends itself to any theme. The title has been hand sewn & I stamped the edge of the layout with a dandelion image. The 12 x 12 paper is from Tim Holtz, I used this as the spots reminded me of golf balls!