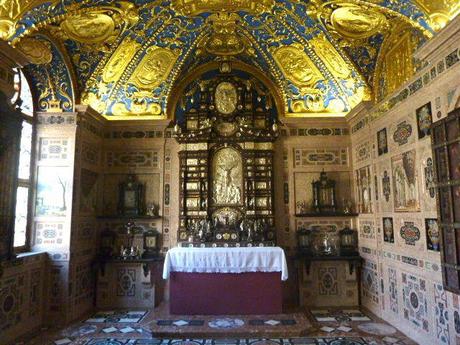 The Munich Residenz was the main palace of Bavarian rulers for over 400 years.   It's a grand palace, one of the largest and most lavish palaces in all of Europe, with 130 rooms open to the public, but it was one of the smallest rooms that grabbed my attention, the Ornate Chapel.
The Ornate Chapel dates back to 1607 and was the private oratory of Duke Maxmilian I.  The exquisite blue and gold detail on the roof  along with the stain glassed windows drew me in immediately: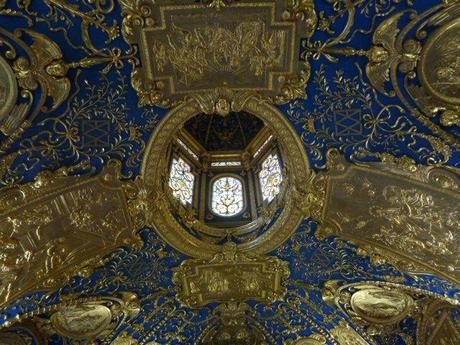 Although the walls and floors aren't too shabby either, covered in Scagliola, a type of fake marble, that ironically is more expensive than marble itself.  The walls depict scenes from the life of the Virgin Mary.  I could spend hours trying to figure out the story.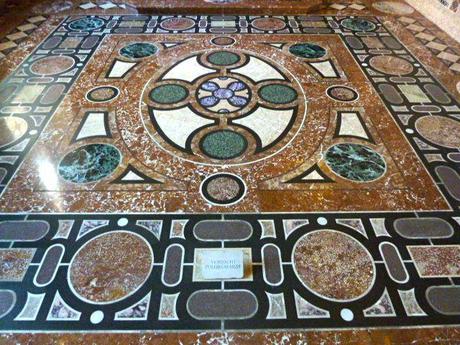 Fake marble floors in the Ornate Chapel of the Munich Residenz
Although I normally seek my solitude on a mountain,  I found the Ornate Chapel a very peaceful place and could stare at the intricate and meaningful details for hours.  I  wonder if the Duke found it comforting to be in such a small room, so different than the other grand rooms of the Munich Residenz?
To see just how grand the royals lived check out the The World's Most Luxurious Travel Kit? found in the Treasury of the Munich Residenz.
This photo has been submitted as part of Travel Photo Thursday, a weekly travel photography showcase organized by Nancie at Budget Travelers Sandbox where you can see more travel photos from around the world.
Don't forget to join in the fun of the first Food Friday tomorrow.  Write a food or drink related post of any kind on your blog, or link to an old post, include the page link from Food Friday on your post, then  come back here and place your link in the Mr. Linky form at the bottom of the post.  (More details will be explained in tomorrow's post so be sure to check back).