Should I really share my favorite places to eat in Munich?  I'm torn, I really want visitors to Munich to eat at places besides the Hofbräuhaus and the Hard Rock Cafe, or one of the many cafes/restaurants surrounding Marienplatz.  On the other hand, my favorite places to eat in Munich, are my favorites, in part because they're not touristy and frankly I like them that way. Nevertheless, here are a few of my favorites: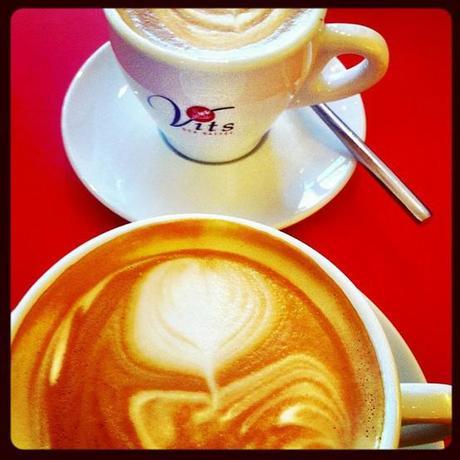 My Favorite Coffee Shop in Munich:  Vits, Rumfordstraße 49 (just around the corner from the Isator S-bahn station, closed on Sundays).  This centrally located cafe is one of the few places in Munich that provides free water.  The coffee is delicious and every cappuccino is served with foam art, ranging from a leaf to an elephant.  Of course they serve delicious cakes and a light lunch menu.  It's quite spacious with both indoor and outdoor seating and you never feel rushed.
My Favorite Place to Eat in Munich for Fast Food :  Manam, Rosenheimer Strasse 34.  (no website, closed on Sundays). I give this one away with great reluctance since it is always full and almost impossible to get a table at the four table restaurant.  Having lived in Thailand for 2 years previously, I am VERY PICKY about Thai food and it's some of the best Thai food I've had outside of Thailand.  I especially love the Som Tam (papaya salad sprinkled with peanuts).
My Favorite Place to Eat  in Munich for Gluten-Free Food:  Ristorante Il Salento,Verdistrasse 92 (Closed on Mondays).   As someone with Celiac disease (gluten allergy) one of my first priorities when I moved to Munich last year was finding gluten-free pizza, which this Italian restaurant does, along with gluten-free pasta.   The atmosphere is OK, but not especially attractive, but the service is friendly and the food delicious.  The chef has Celiac disease so really understands what "gluten-free" means.  I'm a regular here.
My Favorite Place to Eat in Munich for German Food:  Schwabinger Kartoffelhaus, Hohenzollernplatz 4 (open everyday).  This "Potato House" serves up potatoes in more ways than you could ever imagine.  It's also a good option for vegetarians since there are quite a few options.  The decor is very German style and outdoor seating is also available.  I like to take guests here, but locals also enjoy it.  An English menu is also available.
My Favorite Place to Eat in Munich When I Want a Nice Meal:  Champor, Warthestraße 5 (closed on Sundays).  This Malaysian restaurant has it all, decadent food, made with a mix of unidentifiable  herbs and spices (at least to my palate) but unbelievably delicious.  The low lighting, dark wood atmosphere is romantic and the service is excellent.  Both indoor and outdoor seating is available.
OK, now that I've spilled my favorite places to eat in Munich secret, it's time to share yours.  I'm always on the lookout for new places to try.  Guten Appetit!
This post is part of the monthly German Bloggers Stammtisch.  Check out the links below where you can find more "Favorite Places" by other bloggers based in Germany/German bloggers.