If I could transform into my favorite character, who would it be? I think this urge remains in every mind all the time but only thing is the character keeps changing from time to time. When I was very young, I used to have a fantasy world of my own. While reading a book, it was very common in me connecting with the interesting character of its story with myself in my imaginations. Or even consider myself the same. This used to happen many times. The same used to happen when I used to watch some interesting movie or a television serial.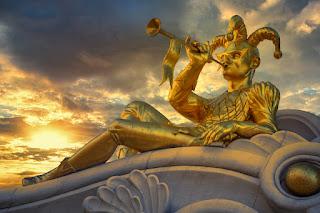 Photo credit: 
nixter
 on 
VisualHunt
I used to watch Star Trek a lot in those days. And started thinking of myself as Spock. When I saw one such movie Satyakam in which Dharmendra played a very strong character, I got very much influenced by him. I really could feel this character's fight between his idealism and the reality of the world.
When I studied Ayn Rand's Fountainhead, I was very impressed with the character of Howard Roark. And it happened so much strongly that even today I am a big fan of that character. Two books written by Agyeya are still etched deep in my mind. The first was 'Shekhar a biography' (शेखर एक जीवनी) and the second "How Many Times In How Many Boats' (कितनी नावों में कितनी बार). Agyeya's full name was Satchidananda Hiranand Vatsyayan. His style of writing was very impressive. I must have imagined Shekhar and myself becoming Shekhar many times in life. Similarly, when I saw the TV serial Karamchand, I started feeling that I should be like Karamchand. I think this always happens with us.
Whenever we read an influential book or watch an interesting & engrossing movie, we get very impressed by their strong characters. How deep this character affects our mind, it has a direct effect on how long we remember that character or how much we mold ourselves in it.
Today, if I want to mold myself into a character, I would probably want to be Forrest Grump. It's been years since I watched this movie but I was very impressed with its main character and it so happened that I started liking everything about it. 
This post is a part of Blogchatter Blog Hop