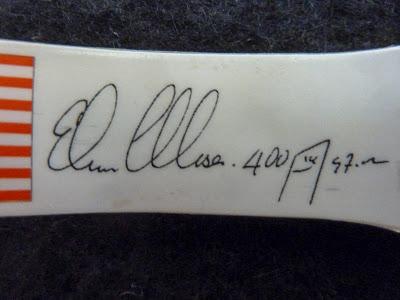 That's h
is signature on the inside
of the watch strap. Moses has won eight gold medals internationally in the 400 meter hurdles and currently has t
he fifth best time in that event
.
Swatch issued the Edwin Moses watch in 1996
in connection with the 1996 Olympics in Atlanta – they'd bought the right to be the official timekeeper. That's likely when I bought it. Just why I bought the Edwin Moses watch as opposed to whatever else, I don't recall. Perhaps it was because I was attracted to his overall excellence.
But I know why I'm posting about it. Here's what it says on the outside of the strap: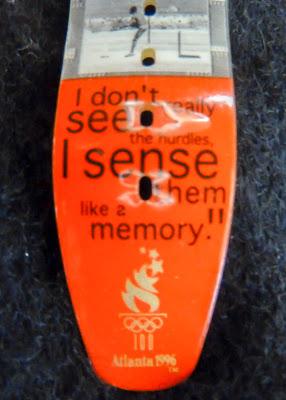 "I don't really see the hurdles, I sense them as a memory."
Think about that. Go on, I'm waiting. Are you wondering, as I am, "If he closed his eyes could he still make the hurdles on memory alone?" Probably not, though I don't really know. It would be interesting, if a bit dangerous, to see how far he could go while blindfolded. When would his time get just far enough off that he'd hit a hurdle? Now, of course, if you were to misplace a hurdle by, say, six inches...