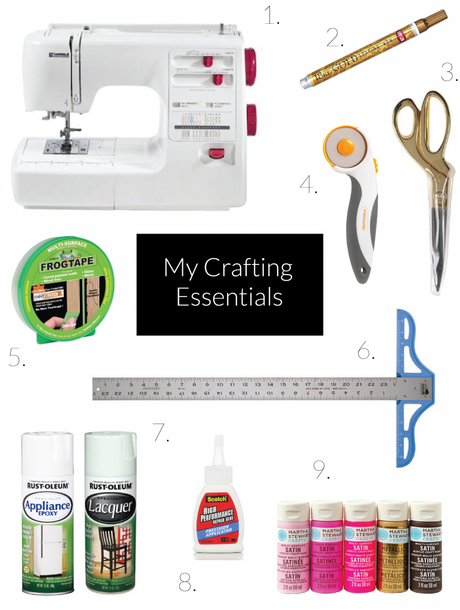 There are a key few tools and materials I use ALL THE TIME for craft and DIY projects. If it works, I stick with it, and these workhorses have earned their keep around here. Do you have a fave tool or material? Please share!!
1. Basic Sewing Machine. My exact model is sadly no longer available, but this one from Kenmore is very similar. It's super intuitive (easy to use), and just an all around good quality sewing machine for the beginner sewer.
2. Gold Leafing Pen. I love me a little glam and this paint pen from Krylon is perfect for adding a touch of gold when a project calls for it. The gold paint is the most luminous I've found and the pen is super smooth flowing. WIN!
3. Heavy-duty Shears. A sharp pair of scissors is an absolute must, and this stainless steel pair (with gold handle!) from Nate Berkus for Target are both functional and purrrty.
4. Rotary Cutter. Rotary cutters make cutting multiple layers of fabric and paper a freaking breeze. Not to mention cutting slits and free-form curves, a rotary cutter is uber helpful to have close at hand.
5. Non-bleeding Multi-Surface Painter's Tape. Oh-so-necessary for just about any project involving spray paint.
6. 24″ T-square. I love this tool for both sewing and paper crafts, not only for it's straight edge and ruler, but also because the "T" allows me to create perpendicular lines in a snap.
7. White Spray Paint. Instantly give anything a dramatic new look with a quick coat of spray paint. I love Rust-oleum's Lacquer Spray Paint and Appliance Epoxy. Both in white, but of course.
8. All Purpose Glue. Scotch's High Performance Repair Glue is strong, fast drying, and adheres to tons of surfaces. So handy.
9. Acrylic Paint. One paint for TONS of decorative projects: fabric, glass, wood. I love Martha Stewart's collection because she has the best color selection.