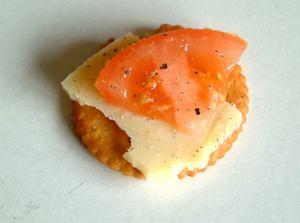 I like Keebler Town House crackers. As a vegetarian I am very particular about the certain things that I consume. I do not eat foods that contain any beef or pork derivatives.
When I am concerned about a product that I am not totally sure about I will call up the company to where the item is manufactured from.
So I phoned up the Keebler crackers eight hundred number requesting information regarding their ingredients.
I was told by one of the operators at customer service that the item I was inquiring about was not listed under "vegetarian suitable". And that they did not have any further knowledge other than what was included on the label.
I am very aware that some products have hidden ingredients that are not listed on the contents label. Usually a company will have more detailed information that they are able to look up or acquire.
When I did not get a satisfied answer I went to the Keebler website and sent a "contact us" email. It took about a week before I got back a response and that was understandable.
I believe that was a reasonable amount of time for me to have waited, considering how busy their schedules may have been and considering the other consumer inquiries that they may have had to answer.
Upon receiving my email I was extremely pleased with the outcome. I was sent a professional well thought out message that specifically gave me the answers that I had wanted and more.
This was how everything went:

Latoya,
We are so glad you took the time to connect with us. Your interest in Keebler® Town House® Original Crackers is appreciated and we are happy to share more information about animal derived ingredients and beef flavoring with you.
This product does not contain any animal derived ingredients. Our ingredient listings on packages and our websites are the best place to check for animal-derived ingredients. Some of the recognizable animal-derived ingredients in our products include milk; milk ingredients such as whey, casein, and cheese; egg and egg ingredients like egg whites and albumin. There are other ingredients that may be less obvious like gelatin, Vitamin D, glycerin and some enzymes. Please note, the enzymes and glycerin we use in our products are not from an animal source.
Kellogg's® uses only vegetable shortenings. No lard or other animal fat is used either as an ingredient or in the preparation of equipment. All of our suppliers of vegetable oil have certified that the oil supplied to us is free of animal fat and is prepared on equipment where no animal products are processed.
For any remaining ingredients not listed above, we are often unable to provide detailed information regarding processing and sourcing since many different suppliers are used. However, if you have a question about a certain ingredient, feel free to contact us further.
Thank you again for reaching out to us. We hope this information answers your question completely. If there is anything else we can help you with, please contact us again by calling 1-877-453-5837. You can also visit us online at http://www.keebler.com to learn more about our foods and determine which ones would work best for you and your family.
Sincerely,
Ruby G.
Consumer Specialist
Consumer Affairs
Feedback from customers like you is truly appreciated. However, please do not reply to this e-mail. Replies sent to this email address cannot be answered. If you have additional comments, please click here.
Latoya wrote:
I'd like to know if this product contains any animal derivatives such as Lard (pig/shortening)or any beef flavoring.