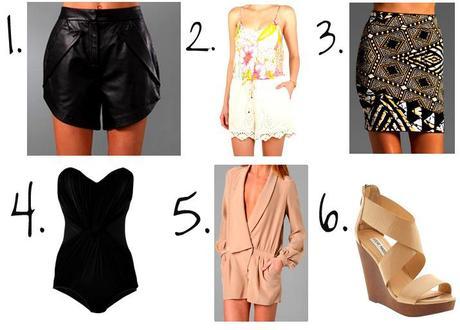 1. Alexander Wang Leather Mini Shorts with Lapel Pockets (get them at 30% off!) 2. Zimmermann Whisper Spliced Romper 3. BCBG Max Azria Tribal Print Double Jacquard Skirt in Black Combo 4. Zimmermann Orchid Twist Bandeau Swimsuit (now 65% off!) 5. Haute Hippie Long-Sleeved Romper 6. Steve Madden Riddgge Sandals (on sale!) (edited with
polyvore and picnik)
Above is a compact list of six things I would like to own right now. It came down to six items because I can't pick a favorite past these! I'm equally coveting them all.  
Today's shoe is the high-collared peep-toe in woven patent violet leather by Giuseppe Zanotti Design. 
While waiting for my aunt's manicure to be done today, I began reading InStyle's July issue, where I came across this page: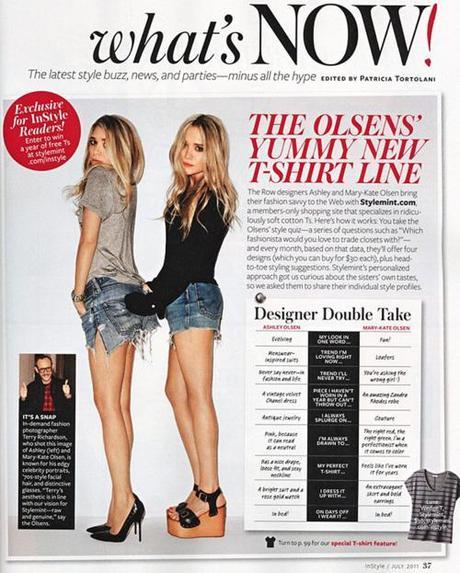 StyleMint seems so simple and easy when you read about it- and it is! Once you register, you are literally answering questions pertaining to your personal style. Then it will show you t-shirts and chances are you'll like them because they were chosen specifically to your preferences. Mary-Kate and Ashley Olsen's presence in the fashion world brings nothing but positive results. Since the t-shirts are $30 each, they are much more accessible than The Row collections.
Does anyone in Canada know what's going on with the mail strike? Is it almost over or something? Because some government-related letters have been coming in but nothing else. I want the August issue of FASHION to arrive, which features Lady Gaga! Hopefully I see it in the mailbox soon.
Happy Fourth of July to all my readers from the USA! Enjoy the red, white and blue fireworks along with a fabulous barbecue bash!
XOXO,
Nina