You asked for it, then here it is, my current skin care routine!!!  To be honest, I change my routine every 2 months. I don't know why but I have this habit of trying different products on my skin. Whenever I ran out of a certain product, it's very rare for me to use the same product from the same brand again, although there really are some exemptions. 
My routine is just the usual, Cleanse>Tone>Moisturize>Serum, there are some who skips the "tone" part or some that does not uses serums, it doesn't matter actually, at least for me. Again, let me show you my current skin care routine. :)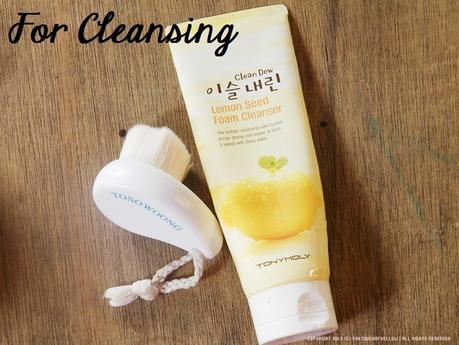 Tony Moly Clean Dew Lemon Sead Foam + Tosowoong Clean Pore Brush are my cleansing buddies. They are a perfect match! I cleanse twice a day, in the morning and night. Or sometimes, thrice when I feel like my makeup is reaching the deep zone of my pores. LOL. 
I also have this tip from Physiogel that whenever we are wearing make-up, we should cleanse our face every 5 hours so that our skin can breath. That's why I am always carrying a samples of bb creams in me while in school. :)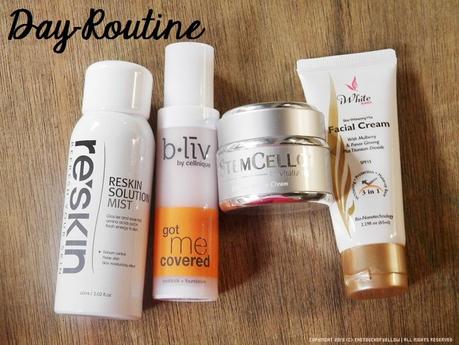 Here's how it goes: Cleanse> reskin solution mist>stemcello cream>got me covered/iwhite facial cream  You might be wondering where is my toner, there it is, the reskin solution mist. Reskin solution mist is my acting toner as of the moment. I'd tell you, this one works so nicely as a mist & toner at the same time. I just don't have enough time to bought my favorite toner which is the Clean & Clear Toner. 
The Stemcello Revitalizing cream is actually my third jar already ever since Korea Cosmetics sent me one. And the Got me Covered from b.liv & the iWhite Facial cream as my sunblock, been using those two alternatively everyday. :) Then continue with my daily make-up & Im really to go! :)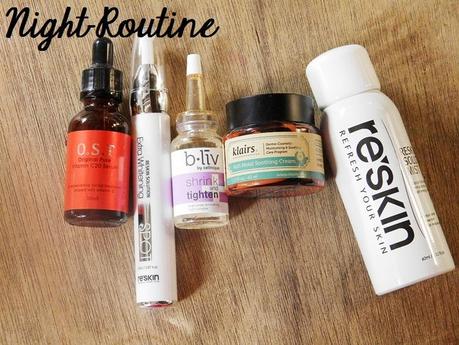 My night routine is much heavier than my morning, its because my skin will fully absorbs all the nutrients from these products.  Cleanse>reskin solution mist>klairs soothing cream>b.liv off with those heads(not in the photo)>b.liv shrink & tighten>Reskin spot(under eye)>OST serum
I used them with 5 minutes interval.  I know that I put on too many products on my skin but they all have their own uses and purposes like for moisturizing, for tightening my pores, for whitening my dark spots/undereye, for whitening. LOL. Yes, I do uses them all at the same time and it really helps my skin to improve! :)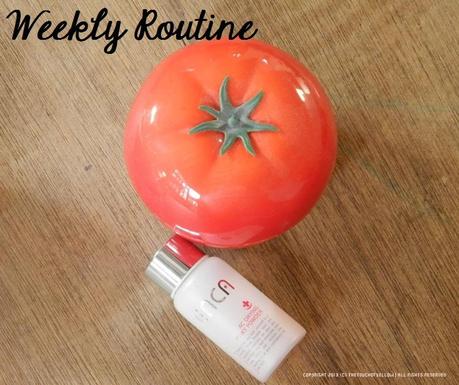 So, they are my weekly routine. I uses them twice to thrice a week, especially the tomatox. That enca powder, I use it whenever I am having a breakout or when there is a redness or red bumps that appears on my skin, but I am not saying that those happened to me every week Hahaha just sometimes.
I also have this habit of using a mask sheet every wednesday. I don't know why is that, it just feels so refreshing then I'll remove it after waking up. Anyway, I use these two after toning, then continue with moisturizing and so on. 
I hope that you enjoyed reading my current skin care routine. Some of them are almost empty and that only means that I'm gonna change them to another product again. And if you have any suggestion, please let me know by leaving a comment below! 
Have a great friday to all of you and Happy fourth of July to others!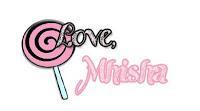 Like my Facebook Page: The touch of Yellow
Follow me on Twitter: @Mhi1106sha
Follow me on Instagram: @berrycreamie