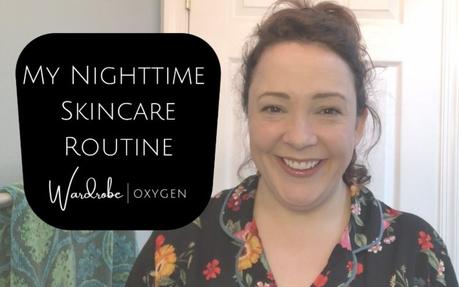 If the video does not show, click here to see the same video on YouTube.
I regularly share skincare products I use on Instagram Stories and have received several DMs asking for more information on my nighttime skincare routine so I decided to share it in a blog post and a video! The other night when getting ready for bed I propped my phone in my medicine cabinet to capture it. The whole process takes less than ten minutes but I edited it down to 59 seconds. Below I share my current nighttime skincare routine and the products I use:
Now that I have bangs, I hold them back with a spa headband so they don't get full of cleanser and lotion. I got this three-pack on Amazon for a super nice price and they've held up great through multiple washings.
I've been using Colleen Rothschild Cleansing Balm for a couple years now and it is by far my favorite cleanser, especially at night. I love that it will take off all my makeup including mascara and primer without a lot of rubbing.
I love using a hot washcloth to remove the cleansing balm, letting the washcloth sit on my face for a while before rubbing off the cleanser. However, especially in the winter it takes running the water a very long time to get it hot so I've learned to do it with cold water. I did purchase this mini fridge/heater thinking I can keep already moistened washcloths in it and turn it on heat, I just haven't set it up yet in the bathroom.
To be sure I got off all makeup and all cleanser, I then wipe my face with Colleen Rothschild Matcha Tea Treatment Toner. It's not stinging or drying and leaves my skin feeling happy and fresh. I use reusable makeup remover wipes in place of cotton balls or pads; I keep a lingerie bag in my bathroom and toss them all in there and throw them in the wash with towels and washcloths.
My sister got me on the Dr. Dennis Gross Ferulic + Retinol eye serum. At first I didn't like it until she shared she used it under a more moisturizing eye cream. I think it's effective in making the eye area look less crepey and saggy. And the price is scary but I only need one light pump for both eyes. I once read that Estee Lauder always put her remaining eye cream around her lips and it helped prevent fine lines and lipstick bleeding so I do it too.
I am obsessed with this eye cream from Prai Beauty. I have never loved eye cream until I tried this. It's super thick but it absorbs nicely and truly makes my eye area look hydrated and happy without causing my makeup to slip off.
I then use some sort of treatment on my face. I have a couple I rotate through but 75% of the time it's Colleen Rothschild Retinol Oil which I've written about before. I don't just put it on my face, it's all over my neck (back too), behind the ears, my decolette, and anything leftover goes on my hands.
After treatment, I use a hydrating oil. I vary between a few different brands, but right now I'm digging this one from Kiehl's which isn't too greasy and smells like a day spa. This too is all over face, neck, chest, and hands.
Over the oil I put a night cream. Many suggest putting oil over night cream, but my skin seems to like the night cream as the final step. I have been using Colleen Rothschild Extreme Recovery Cream for a while. I like that it's not greasy and really leaves my skin looking happy in the morning. This is also a great cream to use on no-makeup days when you want to give your skin a bit of a hydration or healing boost.
I then use a roller to help get all the products deep into the skin. A roller also helps with puffiness and drainage and it just feels great. This one is from Undone Beauty and I like it better than the jade roller I got (and then dropped and broke). Since it's stainless steel it feels more hygenic; it also always stays cool (though if you want to you can stick it in the fridge for more cooling/depuffing). It's also a fraction of the price of the fancy skin rollers from brands like Skin Gym.
Once at bed, I apply almond oil all over my arms, shoulders, and chest. I then put on lip balm (Aquaphor is my current fave) and a hand cream (right now I'm using Aveda).
I used to be pretty lazy with my skincare, but once I started making it a mandatory part of my bedtime routine, it has improved my skin exponentially. Also, I now can't go to sleep without a clean and hydrated face, it just feels... icky. The whole process helps me slow down and I find I can fall asleep more easily. Below I share links to all the products I feature here and in the video, as well as the alternative products I mention. When spring comes, my routine will change as my skincare needs will change. I'll be sure to share when that happens!
Shop my Nighttime Skincare Routine:

Disclosure: All of the products by Colleen Rothschild, Prai Beauty, and Undone Beauty were gifted to me. However, this is not a sponsored/paid post. I chose to write it, the brands have no idea I'm writing this, all thoughts are my own, and I truly use these products every night because I like them and find them effective.