Okay, I'm coming out of the closet (but certainly not out of the house) as a bad mother here and admitting that I HATE going outside in the winter. Not only do I despise cold weather myself, but I resent the hassle of getting kids all bundled up just to go outside, freeze, and bring them back in to unbundle. I mean, I'll go from house to car (warming in the garage in a very non-environmentally-friendly way) and then into a mall/Church/friend's house/etc., bracing the cold only en route to a warm destination, but as easily misinterpreted as this may sound: if you're not going to be removing any clothing when you arrive, is it really worth being there?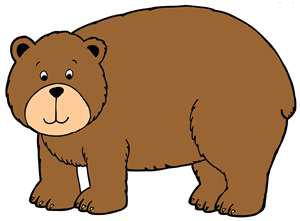 I'm certainly no mama bear in the overprotective sense, but when it comes time to hunker down for the winter (on a full stomach, no less) I wonder if I'm hanging out with the wrong species. (Though, as a bit of trivial research for you, I found out that bears who are pregnant or have cubs under two years of age actually don't hibernate. File that piece of useless knowledge away.)
And never mind taking my own daughters outside...part of my job (my least favourite) entails outdoor yard duty. I have no issue with supervising kids...I mean, I'm probably in the wrong profession if I do...but I'd rather do every recess, every day, in Fall and Spring just to get out of going outside in the frigid in-between. My life actually changed this year when I discovered snowpants. I'm not a hugely vain person (my toques and boots would make that very clear) but I have done yard duty for the past ten years without ever once wearing a pair of snowpants. This year, my new teaching partner was showing off her cozy Costco purchase, and offered to share them with me. Fortunately we never have duty at the same time. (I did try to get a pair myself, but they were all gone.) I also broke the bank for a really, really warm North Face coat, and I have yet to succumb to a truly painful yard duty this year. Just for your amusement, this is what I look like when heading outside for 15 minutes: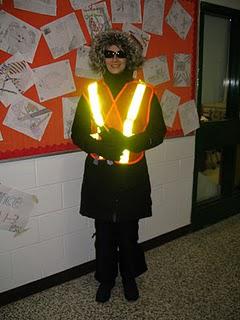 Actually, outside isn't always the problem. I'm thrilled to tell you the heat in my classroom was finally fixed a few weeks ago (after one maintenance man suggested that perhaps I should just gain some weight!) so at least I can now remove my coat when I come back in from recess, instead of teaching in a parka. Oh yes, I did.
I've never been what one would call "outdoorsy", even in fair weather. I can sit by the pool and read magazines with the best of them, and I do enjoy walking with my family in the nice summer heat (though I truly prefer the treadmill for individual fitness) but camping, hiking, etc...not my strong suit.
I truly do feel guilty that my kids are losing out. I mean, I have a lot to offer in other ways (for example the expertise that comes with being a teacher) but I count on their daycare provider and Frannie's school days to get them their winter fresh air. Reading books, providing arts and crafts, and encouraging imaginative play...that's more my realm. Fortunately for my girls, their Daddy is much more inclined to be outdoors, but unless there's a particularly nice (translation: unseasonal above-freezing temperature) Saturday or Sunday it's just not going to happen for me.
If I didn't have this silly thing about wanting my children to grow up in the best country in the world, I'd be heading south faster than you can say "snowpants". (Sadly, no one can move quickly enough to get a potty-training toddler out of said snowpants...)
Thank goodness the groundhog did not see his shadow. Maybe I can rejoin the land of the living this year sooner than I thought.