The first time that I met comedian Marvin Hunter was at The Spirit of Laughter Show, back in December 2013. Not only did he tear the house down but I was able to see firsthand how a professional comedian can keep the attention of the audience with life stories and excellent stage presence. One of his secrets for making it in the entertainment business as a comedian stems from his motto, "Don't knock foolishness…it's nourishment for funny" and so when you go to one of his shows, you'll see why he lives up to that motto.
A native of Vicksburg, Mississippi, Hunter grew up having a mind that he wasn't afraid to express and would say things that others were afraid to say aloud. He saw life from a different point of view and took a hilarious approach to it as he traveled the world while sharpening his craft as a comedian. Being in the entertainment industry can be very hard and fickle but Hunter has proven several times thru his successes that he's built for it and that he has a lot more to show the world. He's performed in front of the same audience as some of the greatest comedians such as Mike Epps, Rodney Perry, and Rickey Smiley and has made appearances as a featured comedian on  various shows such as The Steve Harvey Morning Show , Comic View, and Bounce TV's Off The Chain just to name a few.
As of March 1, 2014, he will appear in a major comedy show called  The Superstars of Comedy and so considering the fact that he is definitely a very busy man, I wanted to make sure that I had the opportunity to chat with him. Let me just say for the record that I was honored that he allowed me the time to ask him a few questions and didn't have a problem answering each and every one of them. Not only is he a funny guy with a professional attitude to match but he is also very humbled and down-to-earth. It is because of those attributes that he is on his way to becoming a household name. Feel free to read our chat below and enjoy it as much as I did: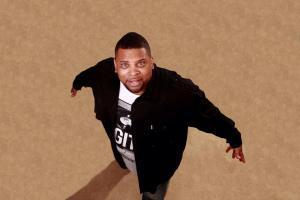 Tell me of the very first time that you got on stage to do comedy. Was it an overwhelming experience?
Marvin: Yes! I requested to do an open mic at a Cigar Emporium held every week…and for a month straight. And for a month straight, I chickened out every week. I was in the navy stationed in Hawaii at the time and the day I built up my courage to do it , I was a nervous wreck and had to take off work that day because I could think of nothing else.
As a professional comedian, has there ever been a moment where you felt like you didn't know what else to talk about?
Marvin: Absolutely….as a comedian who's set is very structured, I've definitely got to that point. Having  a structured set can be a blessing and a curse. I never get onstage and freestyle.
Who would you say had the most influence over your career?
Marvin: Too many to name. Honestly, the US NAVY has had a huge influence on how I approach problems and career issues, including those associated with comedy.im very no –nonsense.
I'm sure that being in the entertainment business is like a rollercoaster ride. What was that one thing that you had to deal with in the industry that ticked you off?
Marvin: Grown men being sensitive, thin skinned, and insecure. Like I said before, I come from a 20-year military background.  That type of behavior in men is frowned upon.
So what's next on the agenda for Marvin Hunter? Any new projects that you're going to surprise your fans with?
Marvin: Im currently a featured comedian on 2014's Bounce TV's Off the Chain which begins airing Jan 14, I'm touring with Rickey Smiley.
Can you cook or do you only know how to boil water?
Marvin: I'm from Mississippi…so you know I can cook. My specialty is grilling though. I got a steak marinade that I call "squirrel piss" that will make you slap yo mamma!
What would you do if some random dude came up to you and started telling you a bunch of jokes, asking for you to "hook" him up in the entertainment industry?
Marvin:  I would tell him to get in line with me….hell, I'm still trying to get put on. I would let him know that the hook up is a rare thing. It's about what are you doing as an individual to put yourself on. You are ultimately responsible for your success.
What's the last movie you saw? Did you enjoy it?
Marvin: The Wolf of Wall Street…it was great.
If you were only allowed to buy ONE thing in your favorite store, what would you buy?
Marvin: Ford dealership……2014 Harley Davison F150
We all know that Richard Pryor and Redd Foxx are two of the most well-respected pioneers of comedy. If God gave you only one minute to speak to both of them, what would you say?
Marvin: Richard: Thank you for the courage to turn your tragedy into humor…in doing so you changed the world of comedy forever. Red Foxx: how in the hell did you get that far behind on your taxes?!?!?!?
***Follow comedian Marvin Hunter on Twitter @Comedianmarvinh, Facebook, and check him out @ www.marvinhunter.com to find out about his upcoming projects!
Sonica