At the beginning of this year, whilst still living in St Andrews, I got a calendar. To be a little more specific, it's a calendar of Edinburgh, with an exciting view of some part of town for each month.
Please don't get me wrong, I was not home-sick, rather I just liked having its pictures on the wall.
This month's the picture is of Charlotte Square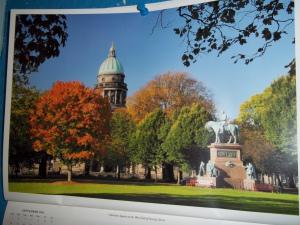 For those who don't know it, Charlotte Square is one of the two large squares that book-end the New Town and is settled in between George Street (it was originally going to be called George Square, but it was renamed to avoid confusion with the other George Square, off the old town) and the West End. It was designed by Robert Adam in the late 18th century and at its center is a collection of statues, the largest of which is Prince Albert on his horse.
The garden Square is actually private (like many in the new town), but is open each August for the Edinburgh International Book Festival. This brings me nicely on to the actual point. Charlotte Square doesn't actually resemble the pristine, perfectly mowed image on my calendar at the moment. All the extra rain this August  has, as well as making EIBF goers a little muddy at times,  made it look distinctly more like a swamp than its usual elegant self. My calendar is being economic with the truth, it seems. Hats off to whoever is currently rectifying the rain's hard work, I passed last weekend and between then and yesterday they've managed to re-lay about a third of the turf. However, I doubt with best will in the world it will look like my calendar by the end of October, although at least it won't look like they've been filming the battlefield scenes from Downton Abbey there anymore.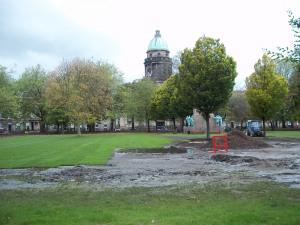 Cr