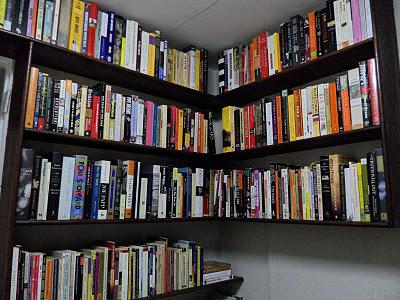 The inspiration: Jessica Zafra's post on bookshelves here. This is my (expanded) bookshelf--expanded because, when the original ones in our house (say, this one) could no longer hold all my books, I looked for extra space somewhere else. When my friends Allan and Ken (he designed the kick-ass header above) moved to a bigger unit which had a good-sized maid's quarters they weren't going to use, I decided to rent the space (for a minimum fee--what are friends are for, ika nga) and make it my extended library-cum-bodega. Some custom shelves later and this is how it looks.
No, scratch that--the room looks much better off-camera. Allan and Ken love unearthing vintage chairs from the nearby Bangkal furniture stores and re-upholstering them. Two of the pieces are now in my room. At night, lit only with a lamp bought from Regalong Pambahay, the space looks, well, fetching. I've a photo somewhere in my PC of their dog Marsha lounging on one of the chairs, my mini-library washed with soft light and looking distinguished in the background, but for the life of me I can't find the pic. This one should do then.
Unlike my home shelves which carry a crazy variety of titles, my offsite library, if you will, hosts mostly non-fiction, anthologies and theater/arts books. I repair to this room for my research--or just to play with Marsha, who loves dozing off on my lap, the spoiled gurl.
By the way, something totally unrelated--our new Fabcaster friend Alephnats has good advice for everyone: Date a guy who reads, he says. Ahem, can't say I disagree.