The older I get, the more I see how skincare and beauty products can be a true gamechanger. With the right products, my skin is happier, I feel better, look better, my hair is more manageable, and I can even get away with less or no makeup. These are my tried and true, my beauty ride or die products for hair, skin, and body. These products I buy over and over and they never disappoint: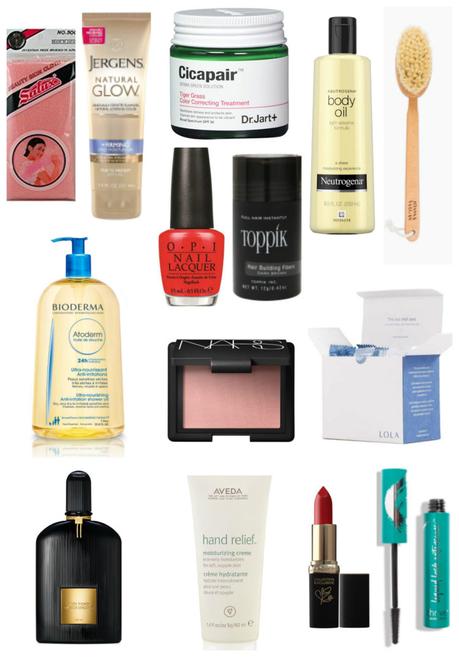 Body Products
This body wash is for dry and sensitive skin, so sensitive it can be used on babies. However, our whole family uses it. While it's called an oil, it lathers up like a traditional shower gel, doesn't have a strong scent, a little goes a long way, and I get the big bottles with a pump so it's good for portion control with family members who are prone to dumping a whole bottle on their bath poof. I didn't take this on my recent two-week trip, relying on hotel shower gels and a couple of travel-sized bottles I brought with me. My skin was much drier and it made me realize what a difference Atoderm makes!
This is my ride or die moisturizer. I adore the scent. When I was pregnant, I couldn't stand most scents and even after my daughter was born I could no longer wear a lot of the perfumes and products I used to wear because the scent bothered me. But Neutrogena Body Oil, the smell makes me so happy, it calms me, stopped my first trimester nausea, doesn't get all cloying when it's hot out, doesn't compete with my perfume, and leaves my skin gleaming. In the summer I wear it alone, in the winter I wear it over a heavyweight fragrance-free lotion or cream.
Favorite Deodorant: Degree
I first experienced a skin towel when working for The Body shop two decades ago. From the same threads as a body pouf, it's woven tightly to create a highly exfoliating washcloth that still brings plenty of lather. It's long enough that you can scrub your back or you can ball it up and use it as a traditional pouf. It dries quickly, doesn't get musty, and you can even throw it in the dishwasher for the occasional sanitization. I find these bigger, stronger, and more scrubby than the ones from The Body Shop (and they're also cheaper).
I review this self-tanner in this blog post, it's the only self-tanner I've ever used that didn't leave streaks.
I don't like hand cream, it's greasy and heavy and I always seem to need to open a door or a jar after applying it. But Aveda isn't super greasy, and it smells like a spa and it truly works. I keep a tube next to my bed. It's not cheap so I ask for it as a gift at the holidays and one tube lasts for months and months.
Favorite Tampons: LOLA
For years I used a menstrual cup and loved it. Low waste, reliable, comfortable, cost-effective. Then I got an IUD, and cups stopped being reliable or comfortable. I tried several different ones, but I'd get horrible cramps and they'd often leak. I had to go back to tampons, but I wanted to choose ones that were the best for the environment and my health. LOLA is a subscription service, but one of the easiest ones to customize, change, pause, and cancel that I've experienced. I recommend you try their quiz, where you let them know what kinds of period products you prefer (they have a variety of pads and tampons as well as wipes and other products), how often you get your period and your flow, and other questions. I get the non-applicator tampons and receive a box every month a day or two after my period ends with a variety of absorption selected by me. LOLA notifies me by email a couple of days before the delivery to see if I want to change the selection or even pause it for a month. Each box is $9, shipping free, and it's free of superfluous packaging and shipped in a discreet brown box. They use 100% certified organic cotton that is free of toxins, dyes, and synthetic fibers; they have donated over two million products to the charity I Support the Girls, and joined forces with Period Equity to end the tampon tax. If you need period products, please know there are amazing options now available beyond what you find in your local drugstore that is better for the environment, your health, fellow women, as well as your wallet.
Face Products
I have been using this and raving about it for years. Apply the cream to dry skin and gently massage in. It will break up and dissolve long-wear foundation, waterproof mascara, and everything else without stripping your skin. You can wipe off with a wet washcloth but I love covering my face with a hot washcloth, hold it there until it cools, and then wipe off so I get a bit of a spa moment and it helps get everything off my face. My skin ends up clean but not tight, even in the dead of winter. Even if I'm not wearing makeup I use this every night; the nights when I skip it for a traditional cleanser or a cleansing wipe I regret it because my skin wakes up tight and dry. Please note I have a relationship with Colleen Rothschild Beauty and receive this for free, however, I share it because I seriously love it so much and it has transformed my skin.
Favorite Facial Hair Grooming Tool: Tinkle Razors
Hair Products
Favorite Thinning Hair Product: TOPPIK
Toppik is a colored powder fiber. Applied to the scalp, it doesn't dye it but creates an effect of thicker hair at the roots. It's not sticky or greasy or tacky and stays in place if you sweat or get caught in the rain. It also doesn't make my head itch. I got the 12g size bottle maybe two years ago and still haven't used all of it. I got the optional nozzle, I think it makes it easier to get the back of your head. Not only does it make your hair thicker, it also hides if you have roots growing out! Travel tip: If you buy this, there is a tiny cap for the nozzle that can easily pop off or get lost. Unscrew the cap, slip a piece of plastic from a bag or dry cleaning in between and screw it closed. You'll be safe even for the bumpiest of flights!
***
This category is slim because I've recently switched my entire haircare routine. I got a cut in the spring that was a bit shorter than before and my hair sprung up in curls. I decided to embrace the curls and have been trying new products to make the curls happy, shiny, frizz-free, and last all day. None I have tried long enough to re-purchase or give a proper review but I will share a hair update soon. However items I ADORED prior to changing my hair:
Oribe Dry Texturizing Spray - the best for volume without looking like a helmet head or feeling stiff. My previous review.
Harry Josh Ultra Light Pro Hair Dryer - Relatively quiet, quite powerful, can take a beating, doesn't fry your hair, and is a pretty green color. I'm cheap with a lot of beauty products, but I've found spending on a hairdryer is worth it for my style and actually long term for my wallet. My old T3 hairdryer is older than Emerson and still works, it's just louder and compared to new appliances, very heavy and noisy. I do need to share I got the Harry Josh hairdryer as a gift from Dermstore a few years ago; otherwise, I would still be using my now-retired T3.
Aveda Paddle Brush - My husband and I used to fight over it, now he can enjoy it all to himself!
Evo Fabulouso Color Intensifying Conditioner - If you color your hair and it starts to look dull a couple of weeks before your touch-up, try this. It really does revive your hair!
Hot Tools Curling Iron - I love it more than the fancy expensive one I used to have, and it lasts longer. I got one free thanks to a sponsored post and left it by accident in my hotel room. Before I got home from my flight I had ordered a replacement on Amazon. I used the 1″ size for my shoulder- to shoulder blade-length hair.
Cosmetics
I have been wearing this red for almost a decade, it's so chic, so classic, so perfect. It's great in the summer or the winter, it's great on toes and fingers. Not too blue, not too orange, but doesn't scream like a fire engine. Looks great on short nails or long talons, and I love that it comes in gel as well as powder dip acrylic.
I only tried this mascara after the raving of several of you. Cruelty-free, vegan, gives back, and it's a fantastic product. This is a "tubing" mascara which means instead of painting your lashes, it coats the lashes with tubes that stay in place when you cry and sweat, but remove easily with warm water. It really amps up my lashes while looking natural and even though I regularly rub my allergy-prone eyes, it stays in place. This is my Thrive Causemetics review.
I use Espresso, but they have several colors to choose from. Very fine point so you can draw "hairs" even if you're not careful or creative. Not too hard but not soft like an eyeliner. A spooly brush on the other end to groom. No need for a pencil sharpener. Oh, and it's less than $10 and lasts for months!
For my 30s I used Orgasm, a peachy pink with a subtle shimmer. When I hit my 40s it seemed too glittery and strong. Sex Appeal is the same peachy pink, but dialed down from 11 to maybe 6 and no shimmer or glitter or shine. It gives a natural flush, and if I decide I want rosy cheeks, it layers well to concentrate the color. It's not cheap, but one compact lasts me almost a year and it rarely crumbles.
This is a light green thick mud-like cream. When you apply it to your skin and rub it in, it seems to airbrush your skin, hiding redness, evening skintone. It's best on fair complexions and some experience irritation when first using it, but I find it not only airbrushes skin but also improves skin. I'm a point where every foundation I use seems to make my skin look older, but Cicapair makes my skin look better not worse and doesn't melt, bead up, or get weird throughout the day.
Shop the Products Mentioned in this Article: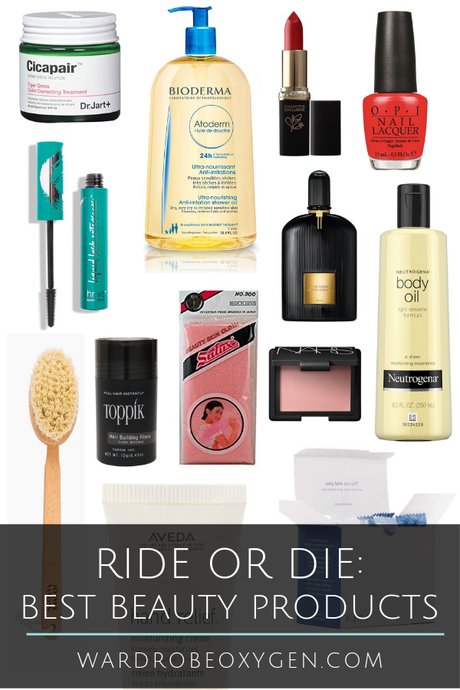 Now I want to hear from you! What are your absolute favorite beauty products that you buy over and over, and never let you down? Your favorite may be just what another WO2 reader has been looking for in her life!