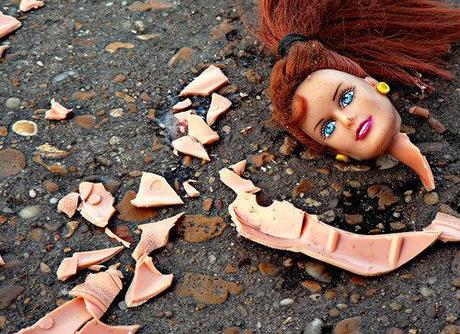 Photo from http://thestir.cafemom.com
She keeps asking and I keep coming up with excuses. I tell her that I have to clean out the dishwasher or change out the laundry from the washing machine. And each time, she says, "Ok, Mommy, we can play Barbies when you are done." And she waits. She actually sits there and waits. Finally, I cave and end up playing for only 10 minutes because my brain can't take the mind numbing experience for any longer length of time. I usually end up telling her that the Barbie Dreamhouse was destroyed by a monster and poor Ken didn't survive. I know, it's not pretty nor good parenting in the least, but I truly hate playing Barbies.
Don't get me wrong, I love playing with my kids. I can color, do puzzles, play doh, dance parties, pretend restaurant, and all that good stuff. There is just something about playing Barbies that makes me want to throw them out the window and hope that a raccoon eats them. Is that bad? Probably.
I think the reason it bothers me so much is that I can't think of anything to make them do. There's only so many times you can get them dressed for a ball or go up and down the plastic elevator. I'm fried. I need to find a book or website that provides Barbie scenarios – ideas for those of us who are incapable of playing with dolls whose body shapes make me annoyed. Maybe I'll just pull from reality and have Barbie get pissed at Ken because he can't put his socks in the laundry bin, or maybe Barbie goes to the gym and decides to read a magazine instead of working out. Maybe if we do that, playing with Barbies might prove therapeutic for us grown ups. Or maybe it will require our children to need therapy at a later date. It's a toss up.