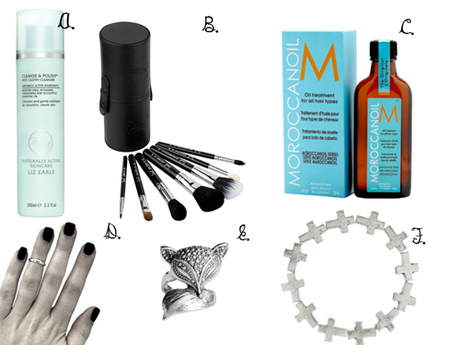 So, it is officially 'Almost Christmas' and would you believe I haven't even raided a Quality Street tin yet. A whole Terry's Chocolate Orange was indulged in but it's not quite the same. My decorations aren't up and I am yet to start Christmas shopping. All I can think of are the things that I want and I need. How selfish is that? Well I am too poor to indulge in these things anyway, but a girl can dream.
A. Liz Earle Cleanse and Polish  - £12.25I have read so much about this product, all positive reviews of course. The lovely Vivianna from Viviannadoesmakeup is a fan of Liz Earle and I literally read a review 10 minutes ago by Emma at milkteef  about the new Christmas limited edition bottle. I don't know about anyone else but when it comes to cleansers I kind of see it as a necessity and not something that is a luxury (which obviously it is a necessary part of the day but you know..), I literally wipe, scrub and wash my face then I'm done without any thought going into it at all. It is time I invested in some luxury. My skin deserves it at the minute.
B. Sigma Travel Kit – The Cities NYC – around £50We have all seen the Sigma brushes haven't we? When it comes to make-up brushes I own the very basic brushes; the foundation brush, the blusher brush, the blending brush and the bronzing brush. Literally nothing fancy and all are purchased from my local Boots. I tend to go for Ruby & Millie brushes or Models Own so nothing major. I love the look of the Sigma New York Travel Kit, I tend to ruin my brushes when I take them out, they are too big for my make up bag and just get squashed so bad, so yes, these would be perfection.
C. Moroccan Oil Treatment (100ml) - £30.45At the minute all I am using on my hair is the Lee Stafford Hair Growth Treatment and some coconut hair serum I got from boots with basic shampoo and conditioner. I was going to try out the VO5 Miracle Oil Treatment next but why not go a little higher end and try the Moroccan Oil? Yes, why not indeed.
D. Fashionology Above Knuckle Ring - £10.10Since discovering Fashionology I have been a woman obsessed. These above knuckle rings are so cute! I also would like one of their ear cuffs, which look insanely cool on Samantha from BeautyCrush. This little ring is like £10, but I would literally wear it every day.
E. Cheap Frills Fox Ring - £7To add to my love of silver is this uber-cute fox ring from Cheap Frills. It's only £7 and is so on trend with all the wee animal rings knocking about now.
F. Fashionology Cross Bracelet – £12.63Finally, another Fashionology item is this cross bracelet. Yet again, spied this on Samantha on one of her YouTube videos and it got added to my list of 'wants' in a nano-second.
I think it may be a little bit too late to add these to my Christmas list, but come January I will be online-shopping like a maniac.
Are any of these on your Christmas list? Or have you tried any yourself?

LOVE

P.S. I also want to say a HUGE THANK YOU to everyone who has been commenting recently, they've made me smile so much! After years of reading blogs and leaving hundreds of comments myself, it is so lovely to receive some of my own. They really do make such a difference to my day!