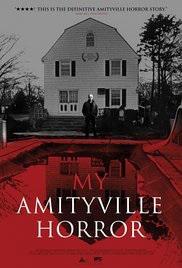 Director: Eric Walter
Writer: Eric Walter (Screenplay)
Plot: For the first time in 35 years, Daniel Lutz recounts his version of the infamous Amityville haunting that terrified his family in 1975. George and Kathleen Lutz's story went on to inspire a best-selling novel and the subsequent films have continued to fascinate audiences today. This documentary reveals the horror behind growing up as part of a world famous haunting and while Daniel's facts may be other's fiction, the psychological scars he carries are indisputable. Documentary filmmaker, Eric Walter, has combined years of independent research into the Amityville case along with the perspectives of past investigative reporters and eyewitnesses, giving way to the most personal testimony of the subject to date.
There may be spoilers the rest of the review
Verdict: Simple Documentary
Story: My Amityville Horror starts as we meet Daniel Lutz one of the children of the Lutz household that went through the Amityville Horror, he has struggled for years and continues to look for help. This is his story about what happened and how this effected his life.
We get to see how Daniel reacts to the accounts that were reported while giving his side to the story in what shows that this could be a mix of his belief in what happened or abuse he suffered. We also follow the journalists involved with the case as they look back on what they do believe to be true from what they reported.
My Amityville Horror is a documentary behind the films that became iconic because of the 'based on actual events' tag. We see how the grown up man is still damaged by what has happened and how it could be in his head too. Really this should just have been on television because well it just comes off very plain with it just being how people see what happened without being too interesting. This is nothing more than a discussion about what might have happened nothing more nothing less.
Director Review: Eric Walter – Eric gives us what would be a good television documentary but as a full film it just doesn't reach the full levels.
Documentary: My Amityville Horror reaches the tele level of documentary standards without being overly compelling.
Suggestion: My Amityville Horror is one to watch just when you see it late night on television but not to go out your way to watch. (TV Time)
Best Part: It does open the idea of the outside victims.
Worst Part: We get no real answers.
Believability: It is all up to you what you want to believe.
Chances of Tears: No
Chances of Sequel: No
Post Credits Scene: No
Oscar Chances: No
Budget: $205,000
Runtime: 1 Hour 28 Minutes
Tagline: The lost witness to a world famous haunting.
Overall: Average documentary that should just be a television hour at best.
Rating