I am still missing Adrian in my life and just beginning to learn how to live as, what?  A widow?  It's hard for me to apply that word to myself.  Thankfully, I keep making art and selling it.  This is a much-needed focus right now.
I finally finished the commission I was working on for the last couple months of Adrian's life, struggling to find the time and energy to work on five large canvases.  Shipping the paintings off and receiving the final payment was a big relief.
This past Saturday, June 18, I attended the reception party at the Johnson Museum of Art, where I had 2 abstract drawings in their summer exhibit,Homegrown:  The Harriott Collection of Local Art.  I was pleased to see that one of my drawings was also shown in their exhibition catalog/brochure.  This show is up through the end of July. 
Today I received a new commission to paint two large canvases for a collector's home.  I'm looking forward to the challenge.  I may not always feel like working when I get up in the mornings, but once I've started, the work itself takes me on its own journey.  All else is forgotten.
Often when working on a commission I revisit old themes and find new ways to express them.  Here's a painting from a commission I worked on a number of years ago: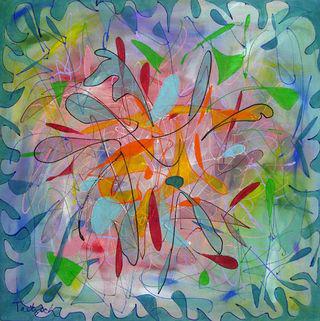 Line Dance Four, 28" x 28" acrylic on canvas.