Muzzy's Place, a friendly oasis of calm in the village of Kayak

öy, Turkey. Offering the perfect getaway for all of the family this restaurant turned bed and breakfast caters for a day by the pool, an evening meal and overnight stay. I have stayed at this inviting place many times and I'm 

continually

 impressed with the high standard of 

exceptional

 quality service.
Muzzy's Place offers the perfect solution to anyone's sweltering hot summer's day in Kayak

öy

. 

Over the last couple of years myself and my family have stayed at this fantastic place on many occasions. If your looking for a 

convenient

 location and worthwhile for money then Muzzy's Place is one of the best choice's to make. Complete with swimming pool, restaurant, bar and a small hotel with enough rooms to keep the atmosphere chilled and peaceful. The Fethiye/

Kayak

öy,

Dolmu

ş stops directly outside Muzzy's Place, so there's no excuses. 
Surrounded

 by the rolling hills of 

Kayak

öy Village, a serene settlement that has a little secret to tell you. Once a ancient civilization comondered by 

Kayak

öy's Greek population until 1924. After the Greek population vacated their simple stone homes a lifetime of decay began to take place through the hills of 

Kayak

öy. Nowadays, 

Kayak

öy poses a frozen feeling even in the summers' heat there is always a interesting atmosphere within the area. Even if you're not a history expert its a 

fascinating

 place to spend a few hours getting closer the village of ghosts.
Whether it be breakfast, lunch or dinner there's no better time to take a seat and order some delicious food at Muzzy's Place. I would 

recommend the Turkish breakfast, I look for a place that serves an authentic Turkish meal. But if your taste buds only agree with food from Mother England then you won't be dismayed, just take a glance at the menu for a selection of English dishes to enjoy. Kebabs and pides are also available, pizzas and pides are cooked in the wood-burning oven to add that extra Turkish flare. 
Don't ever go thirsty during your visit because there is draft Tuborg beer and local and imported spirits to choose from. For the kids there are a selection of freshly made milkshakes and ice cold soft drinks. No afternoon should pass by without having some time for a cup of
 Turkish tea or an chilled glass of Ayran. Nothing is ever too much trouble at Muzzy's Place! I bet you haven't heard on the grape vine that Muzzy's Place offers a great selection of red and white wines, I would go for the Nevzade red wine if I were you. But as the sunsets it wouldn't be right to not have a cocktail or something stronger, when we're on our holidays its ok to enjoy ourselves!

Muzzy's Place caters for everyone but has all the special ingredients for a great child friendly environment. The pool area boasts an outdoor play area with slides for the swimming pool. For little swimmers the shallow end of the swimming pool is raised so parents can let their children enjoy themselves without having to worry too much. For all the sun-worshippers there are a large number of comfortable sunbeds to catch the best of the sun's raise.
Muzzy has everyone in mind, we know that sunbathing isn't everyone's cup of tea so there are Turkish seating areas to stay in the shade and to relax in comfort. I must add that the view from around the swimming pool is idylic, take in the views of the mountains and farms that surround Muzzy's Place. Having a bite to eat can be done around the pool area in the comfort of the Turkish seating areas, its all about de-stressing at Muzzy's Place.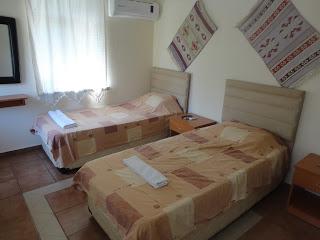 The fun and relaxing doesn't have to stop as the sunsets, why not stay a little longer? The 

Çavuşo

ğlu Hotel is an extension to Muzzy's Place, this hotel has been a part of Muzzy's Place since 

1982. During the mid-summer season its only £50 for one night, which includes bed and breakfast. The room that has been captured to the right has been recently modernised, complete with ensuite bathroom, cable television and air conditioning. I have stayed at Muzzy's 
Çavuşo
ğlu Hotel three times over the years and haven't encountered any problems with any of the features and 
facilities
. 
So, even if you have a villa in the Fethiye area of Turkey its a great way to add a special touch to your holiday by staying at Muzzy's 

Çavuşo

ğlu Hotel for a night or two. To make reservations at Muzzy's 

Çavuşo

ğlu Hotel then visit

http://www.muzzysplacekayakoy.com/EN to find out more about this great place. 
Kayak

öy Village and Muzzy's Place equals the perfect combination!
Joseph Harrison