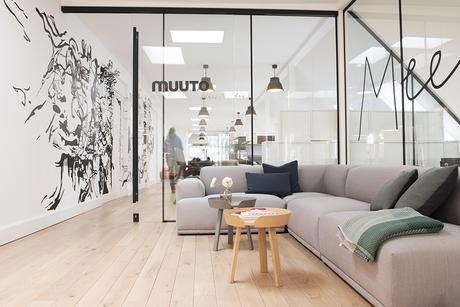 Visitors to Muuto's headquarters are greeted by high-impact graphic wall art and wraparound glass walls. Brandt describes the look as "Scandinavian with a New Yorker twist."
In 2011, Danish design firm Muuto was in search of a flexible workspace to match its growing operations. The top floors of a former legal office above Copenhagen's main shopping street met two of the company's main criteria–a central location with outdoor access–but the building's interiors were dismal and claustrophobic. Cubicles and columns limited visibility, an issue that was exacerbated by a severe lack of lighting. 
The company sensed potential, though, and, with the help of H+ architects, they transformed the space into an airy showroom and office during a five-month renovation. Glass walls were substituted for opaque barriers, the ceiling was opened up to the roof, and extra light boxes were installed throughout.
The theme of transparency is more than aesthetic. Visitors to the art- and plant-filled headquarters are encouraged to circulate between the public showroom and back offices to get a sense of how Muuto's collection functions in practice. "When people visit us for inspiration, it's most inspiring for them to see what happens behind the glass screen of the showroom," says Jesper Brandt, head of contract sales at Muuto.