Mutton Pepper Fry
…
this post is for someone who thinks that I eat way too much chicken and not enough real food
!!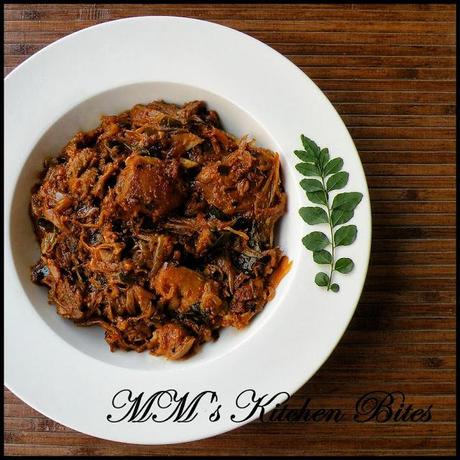 Mutton Pepper Fry
Ingredients:
Mutton/Goat Meat or Lamb, boneless and cut into small pieces, 500 gm

Coriander powder, 3 tsp

Chili powder, 1 tsp

Turmeric powder, ½

  

tsp

Salt, to taste

Water, about 2 ½ cups

Onions, sliced finely, 3

Garlic, sliced finely, 4-5 cloves

Curry leaves, a handful

Black peppercorns, coarsely crushed, 1- 1 ½ tbsp

Oil, 2 tbsp
For the spice mix:
Green cardamoms, 4

Cloves, 4

Cinnamon, 1" stick
Instructions:
Wash and clean the mutton.  Boil till tender with coriander powder, chili powder, turmeric powder and salt – about 15-20 minutes. You should be left with about ¼ cup liquid to be used later.
While the mutton is cooking, light dry roast and then finely grind the green cardamoms, cloves and cinnamon. Keep aside.
Heat oil in a wok/kadhai or a pan.
Add in the onions and let them fry till they start turning golden brown.
Add in the garlic, curry leaves and fry for a couple of minutes till garlic gets soft.
Now add in the crushed peppercorns and the mutton with the liquid. Sauté for 2-3 minutes over low heat.
Add in the spice powder, mix and let meat cook for a further 4-5 minutes until all the water dries up and meat is browned.
Check and adjust for seasoning. Done!
Option: you can add in some tomatoes. Increase the oil by 1 tbsp.  Use 2 finely diced onions and when they soft, add in 3 finely chopped tomatoes. Let the tomatoes go mushy and release oil before adding mutton. This will give you nice smooth thick gravy.