Mutton Korma
…
remember that advertisement "fill it, shut it, forget it"
?
Unlike most mutton dishes, which require hours of slaving over the stove, this one requires minimal effort but the end result is totally lip smacking
…
so needless to say one of my favourites
…
the only real effort involved is in frying the onions but gone are those days and now I cheat and use store brought fried onions
…
if you don't, you must
...
this is one of the things I refused to use earlier and took a lot of convincing from my friend HK
…
now the fried onion packet has become a pantry staple (along with tinned chopped tomatoes, again thanks to HK)
...
especially for those days when all we are craving for is a curry – and it gets ready in 10 minutes
J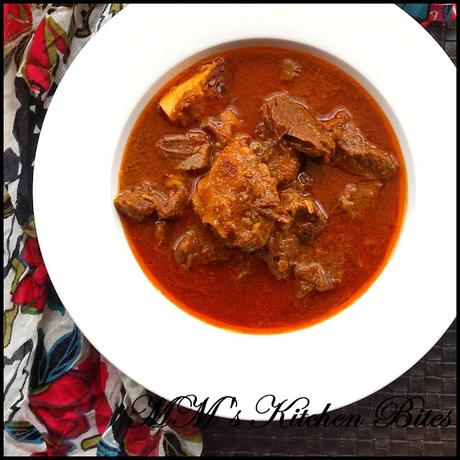 Mutton Korma
Ingredients:
Meat, Goat/Mutton or Lamb, 400 gms

Crisp Fried Onions, ¼ cup + ¼ cup (I use store bought, if you don't: finely slice red onion and deep fry them till golden brown. Strain using a slotted spoon and spread out on a plate and let them crisp up. Don't use a paper towel as then the onions don't crisp up)

Curd, 4 tbsp

Coriander powder, 2 tsp

Red Chili powder, ½ tsp (for heat)

Kashmiri red chili powder, 1 tsp (or colour)

Fresh Garlic, grated/paste, 2 tsp

Fresh Garlic, grated/paste, 2 tsp

Black Cardamom, 1 (optional)

Green Cardamoms, 2-3

Cloves, 3-4

Cinnamon, 1" stick

Bay leaf, 1

Oil/Ghee, 2 tbsp

Salt, to taste

Water, 1 cup or as needed
Instructions:
Blend ¼ cup of fried onions along with curd, coriander powder, red chili powder, kashmiri red chili powder, garlic paste and ginger paste. Marinate the mutton in the curd mix for a couple of hours – cover and refrigerate. If the mutton quality is good and fresh, marinating for 10- 15 minutes is good enough.
Bring the marinated mutton back to room temperate before starting cooking. Sprinkle salt and mix well. If marinating for half an hour or less, add salt in the marinade itself.
Heat the oil in a heavy bottom pan (with lid) or a pressure cooker. Add in black cardamom, green cardamom, cloves, cinnamon and bay leaf.
After about 10-12 seconds, add the marinated mutton. Stir well and fry till mutton is coloured brown on all sides – about 10 minutes.
Add the water, cover and let it cook on medium low flame for about 40-50 minutes.
Add the balance ¼ cup of fried onions and mix well. Reduce the heat to low, cover and cook till done – another hour or so till the meat is fork tender. Do check for consistency of the gravy along the way and add water if required.
Stay away from coriander leaves for garnishing!!
J
Serve hot with rice or rotis – tandoori, tawa or rumaali