There's something about bacon that just adds a kick to any meal or snack. Its crispy yet chewy texture, and melt-in-your-mouth tendencies complements everything from burgers to cupcakes. Well, the bacon-flavored toothpaste is going a little too far (see it here).  Bacon pretty much makes everything better; even those long days at the office. Just can't resist adding it to everything. Not only is bacon an excellent ingredient, its also terrific solo. What can't bacon do?  This week Dudepins brings you some must-try bacon recipes. Celebrate the joys of cured pork belly with these easy and delicious recipes. Be sure to share your favorite bacon recipes by pinning them up on Dudepins.com!
Cheesy BBQ Bacon Jalapenos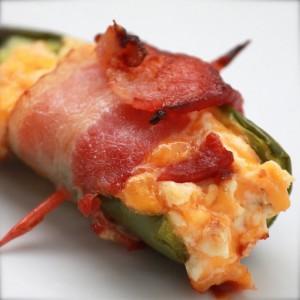 (Source – forgivingmartha.com)
 What happens when you combine bacon, jalapenos, cheese, BBQ sauce, and fancy spices and then skewer them together? A flavor juggernaut explosion that will have your taste buds saying, "Whoa!" They actually make quite impressive appetizers and are super easy to make. Pairs very well with beer and good times. Click here for the recipe.
Bacon and egg cups with cremini mushrooms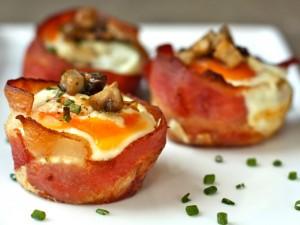 (Source – daisyworld.net)
 Ahh, the classic bacon with eggs. But wait, the bacon is transformed into cups that hold a delicious filling of eggs, cheese, bread, and pretentiously named mushrooms? One word… GENIUS. Click here for the recipe.
Bacon and guacamole grilled cheese sandwich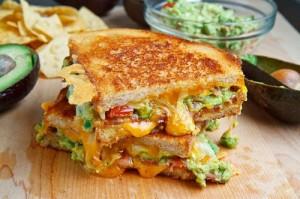 (Source – closetcooking.com)
 This dude Kevin in Toronto cooks in his closet sized kitchen. He's the mastermind behind this recipe and other amazing culinary creations. Sandwiched between two slices of sourdough bread is bacon, jack cheese, and guac. Trust me, this is a true dude's sandwich; its one of those meals that's so deliciously messy, there's no time to think about wiping your mouth. Click here for the recipe.
Bacon Pancakes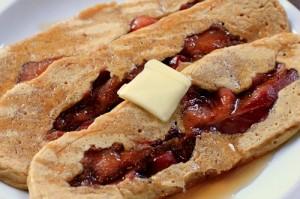 (Source – onehundreddollarsamonth.com)
We love bacon and we love pancakes, so it was only a matter of time before someone combined the two. Top with butter and maple syrup and you're good to go. Click here for the recipe. Basically you're just making regular pancakes and adding a strip of bacon. You can even chop the bacon pieces up and add to the batter. Easy as pie, I mean pancakes.
Green beans with bacon and pecans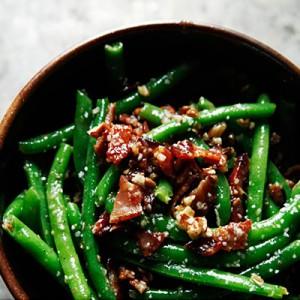 (Source – redbookmag.com)
 There are certain ingredients that marry perfectly with cured pork belly. Two ingredients that pair beautifully with bacon are pecans and maple syrup. Get your bacon fix with this fantastic bacon drenched side dish with candied pecans, Dijon mustard, and maple syrup. Click here for the recipe.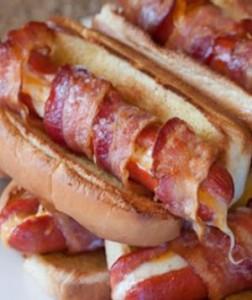 (Source – shape.com)
 If you've been on Dudepins.com you'll probably recognize this photo of bacon wrapped cheese dogs. It was pinned, re-pinned, and liked, so naturally it deserved a spot in this post. How do you make a cheese dog even better? Yes, wrap it in bacon; just like everything else. See it here.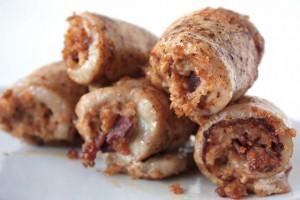 (Source- mommaheskitchen.blogspot.ca)
 This recipe actually calls for turkey bacon, but feel free to use the real stuff. Either way it's delicious. Pair it with some bacon wrapped veggies, and some half-shell potatoes and you've got a completely baconized meal. Get the recipe here.
Bacon wrapped asparagus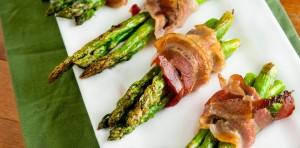 (Source – poormet.com)
 Everything wrapped in bacon is better. That's especially true for anything green. Next time you offer to cook for your vegetarian girlfriend, just wrap your meal in bacon. Problem solved. Once again I ask myself what bacon can't do. It even solves relationship problems. Get the recipe here.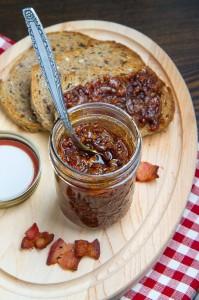 (Source – closetcooking.com)
 Wait, is this for real, bacon jam with booze and syrup? This is by far probably the best condiment on the face of the planet. Bacon tastes good on everything, and now you can easily spread it on everything. This savoury, smoky, and spicy jam really hits the spot. Give it a try and pin up some pictures of what you spread bacon jam on. Click here for the recipe.
That's a wrap(ped in bacon)! Check out other bacon recipes and all things awesome at Dudepins.com. Man up. Sign up. Pin up.
Featured image- http://www.lylaandblu.com