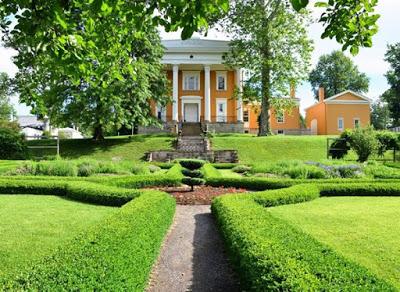 Travel along the Ohio River Scenic Byway through southeast Indiana, and you discover small towns full of history and beautiful 19th century architecture. This is a road trip for those who love old, historic homes because you'll find several from Aurora to New Albany.
These examples of life for the rich and famous in the 1800's include the Hillforest Mansion that sits on a hillside overlooking the Ohio River in Aurora.
Travel onward, and you'll discover the Lanier Mansion State Historic Site that was built in 1844 in the Greek Revival style for financier James Franklin Doughty Lanier, Lanier Mansion is known as Madison's crown jewel.
We cannot forget a trip down to New Albany for a visit to the Culbertson Mansion State Historic Site. Built in 1867 in Second-Empire style for William Culbertson, renowned philanthropist and one of the wealthiest men in the state, Culbertson Mansion is a must see for decorative painters and art aficionados.
These three lovely, historic homes make for a wonderful road trip along the Ohio River, and you can discover more about them at Visit Indiana website via this link.
You may also find more things to do in Aurora, Madison and New Albany.