With the industry producing high tech golf equipment for the past several years, advancements have led to an overall game improvement model, helping players with everything from swing adjustments to course distances. In this article, Golf for Beginners takes a look at a few "must-have" golf gifts to augment your game.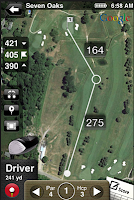 1. Golf GPS: Comes in a variety of styles from apps and watches to hand-held devices, the golf GPS is a must-have for your bag...as long as you aren't in a tournament. They can record distance, statistics, and scores.
I personally carry the Bushnell NEO, a golf rangefinder which I received as a gift and which gives me basic distances from where I stand to the green.
2. Swing/Game Analysis: Aside from lessons with a golf teaching professional who has all of the latest techie gifts on-hand, there are portable swing analysis golf gifts which don't cost a fortune and offer you shot analysis. Arccos Caddie Smart Sensors, for example, claim that you will "know the exact distance to any point on the course, learn precisely which club to Use in every situation and identify Actual strengths and weaknesses of their game."
3. Golf Simulator: Simulators are pretty expensive so your mates are unlikely to shell out upwards of three thousand dollars so you can improve your game and beat them on the course but, for the hardcore tech golfer, no man cave is complete without this entertainment system.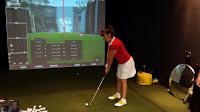 Basically set up like the golf simulators you see at PGA Tour Superstore (see photo), these simulators can come with a variety of the top courses, retractable screen, real-time shot tracking...even competitions within the game itself.
Read: Golf Gifts Your Dad Will Use
You will probably receive boxes of golf balls, perhaps a golf shirt or even the most flattering golf sportswear as a gift, but tech improvement devices offer you the ability to elevate your game, and that, in itself, is a reason to splurge on yourself this holiday season.


Unless otherwise stated in this article, Golf for Beginners blog did not personally test any items in this blog and cannot verify that they are great gift ideas for you or for your friends and family. These are mainly suggestions and reflect the opinion of the author. Both the author and Golf for Beginners shall not be held liable for any information within this blog.