Open Air Modern is based in Williamsburg, Brooklyn, but its reach extends to midcentury Scandinavia and beyond with a selection of curated vintage furniture and a hand-culled design library. Slideshow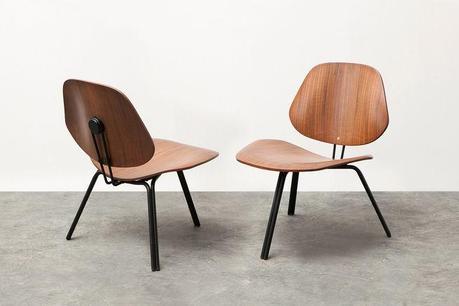 Osvaldo Borsani P31 chairs: "An Italian take on the Eameses' molded plywood seating. But Borsani totally made the technique his own. And three legs? Hotness." $6,800 for a pair at Open Air Modern.
Open Air Modern proprietor Matt Singer's tagline for his Williamsburg shop is appropriate: Surround yourself with objects you love. Singer sources—and in many cases, refurbishes—a curated selection of vintage modern furniture, and can speak eloquently about each and every one. He's also amassed an impressive design library from rare designer monographs to interior design surveys from the 1960s, 1970s, and 1980s. We stopped by to get some recommendations on top items for sale; stop by the store in person to chat with Singer and see what's newest in his inventory.
Open Air Modern
489 Lorimer Street, Brooklyn NY 11211
718-383-6465