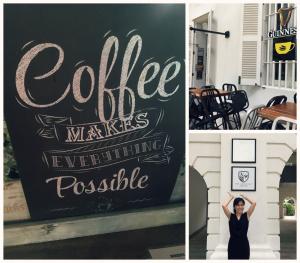 Hungry? Cos we have more delicious food to share. We were at the
Armoury
 to try the
Yellow Cup Coffee
. Since we were there, we also tried out some of the delicious food at the
Armoury
. So lucky you, just read one post and you will get to find out infomration of both the
Armoury 
and 
Yellow Cup Coffee
.
Just in case any of you who are interested in trying out the Yellow Cup Coffee and have difficulty finding them, they are actually situated right inside the
Armoury
. If you are not into alcohol, you might actually like to try out their coffee brew while enjoying a delightful meal at the
Armoury
.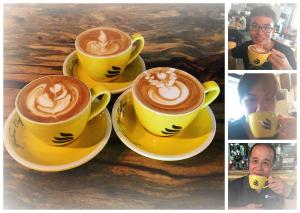 Since we tried a few flavours of the coffee, I thought it would be nice if I shared with you some of my personal favourites. From their signature flavoured Coffee range (S$6), we tried the Hazelnut, Mint, Hawaiian Latte and Nutella Latte. We all agreed that our favourite was the Nutella Latte. <3 Damn good.
Hazelnut - Pretty good too but we thought it was a little too common
Mint - The mint taste was pretty strong. This is something different but we thought the taste of mint didn't blend into coffee
Hawaiian Latte - This is one of the crowd's favorite. But one thing I couldn't put my finger into was the herbs that was inside. It is quite an exotic taste and may not be for everyone.
Nutella Latte - Another popular choice and I think I know why. It is pretty irresistible for any chocolate lovers out there. And I don't think you can get it anywhere else.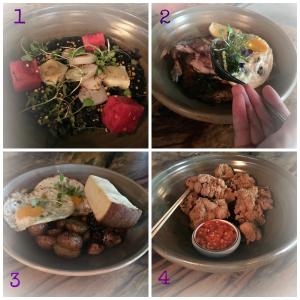 You may not know but the 
Armoury
 will be changing their menu soon. If you want to try what I am having you better and have to make a trip down fast.
Squid Ink Tagliatelle (S$19) - I love how everything mix together (the sweetness of the watermelon, the strong taste of the Goat Cheese and the succulent scallops) and not leave my teeth with a black stain. But for the burnt goat cheese, it may be an acquired taste. You may leave the cheese aside but you should't miss this pasta.
Potato & Fish (S$19) - I thought it was a pretty savoury dish, but the sea salt was not that evenly sprinkled so there were a few bites where it was really too salty. Healthy olive oil was used generously, if you are a lover of something tastefully greasy.
Full Breakfast (S$22) - It is quite difficult for a full breakfast to stand out from the rest out there. Not really one of my must-have
Furi Kaki Chix (S$10) - I ordered this simply because I was curious. I didn't expect this side to be so crunchily addictive. And the portion is huge for a side. Is like popcorn chicken but way better.

The Hainanese Chickren Rice chilli sauce made me tear. Stay away from the chilli if you 

can't

 take spicy food. 

We are all in luck because the best burger I ever had is still going to remain in the menu. YESH! If there is one thing I am definitely to come back to the
Armoury 
for, it is this super yummy Armoury burger (S$19). Even though it can be quite a chore to eat this, cos the burger is twice the size of my mouth, but it is so delicious.
The wagyu patty is like mind blowing. I just can't have enough of the onion jam too. And it has fries. Mmmm....yum. It is just sinfully good. Please don't miss this one, it is really worth traveling for.
*MUST HAVE*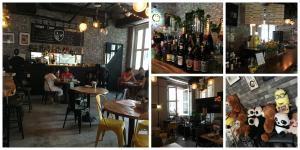 And if you are visiting in the evening, you will also get to enjoy the live band. I didn't really try out their alcohol. Let me know if you need me to do a review on it. But this is definitely a great place for old friends to catch up. As you can see, the deco and atmosphere of the 
Armoury
 is a very chill and cosy.
Given their generous food portion, the price is really affordable. So go try out their Armoury Burger and the flavoured coffee! Don't say I never share good things ar!