The Met delivers a knock-out publication commemorating its 2011 exhibit
I own a lot of "coffee table" books — you know the kind that sit there looking pretty, but rarely get opened or fully appreciated? I'm here to tell you that such will not be the case if you score yourself a copy of Alexander McQueen: Savage Beauty. Obviously the exhibit itself had to be incredible in person to produce such phenomenal photographs. But paired with quotes from the genius himself, a sort of narration from the grave occurs that gives every photo that much more poignancy. McQueen was such an artisan really, extremely skilled yet very emotionally connected to his craft. The depth in his thinking and work clearly comes through the pages of this book. Big thumbs up.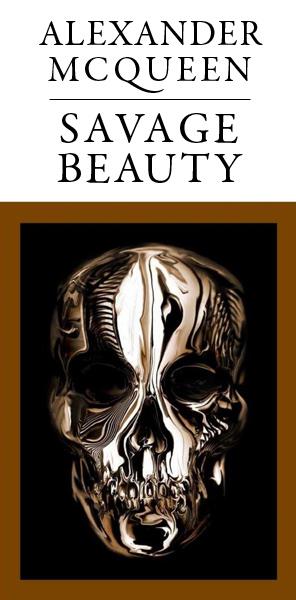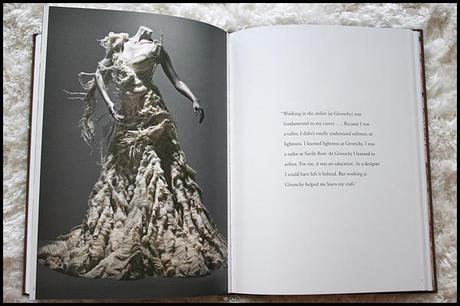 "Working in the atelier [at Givenchy] was fundamental to my career…Because I was a tailor. I didn't really understand softness, or lightness. I learned lightness at Givenchy. I was a tailor at Savile Row. At Givenchy I learned to soften. For me, it was an education. As a designer I could have left it behind. But working at Givenchy helped me learn my craft."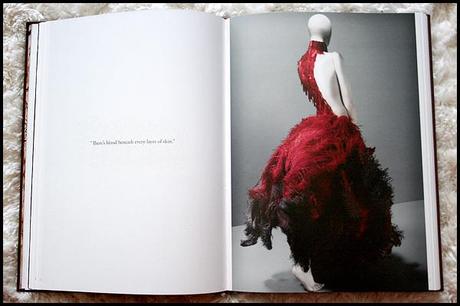 "There's blood beneath every layer of skin."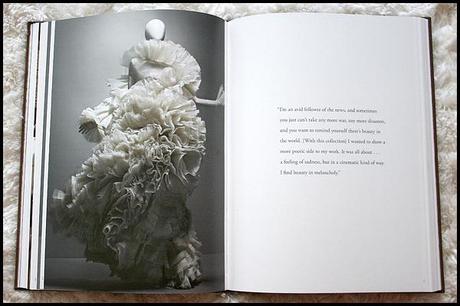 I'm an avid follower of the news, and sometimes you just can't take any more war, any more disasters, and you want to remind yourself there's beauty in the world. [With this collection] I wanted to show a more poetic side to my work. It was all about…a feeling of sadness, but in a cinematic kind of way. I find beauty in melancholy."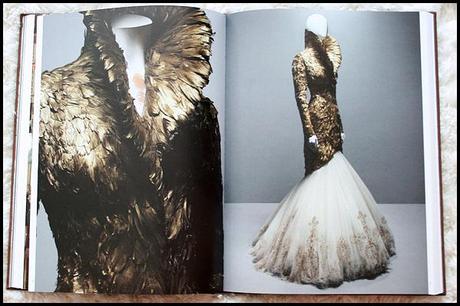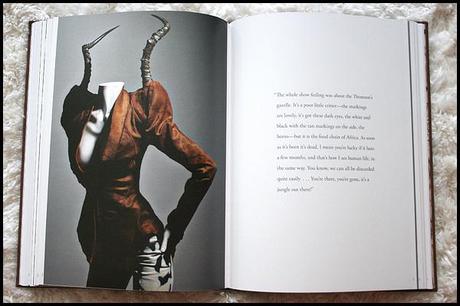 "The whole show feeling was about the Thomson's gazelle. It's poor little critter — the markings are lovely, it's got these dark eyes, the white and black with the tan markings on the side, the horns — but it is the food chain of Africa. As soon as it's born it's dead, I mean you're lucky if it lasts a few months, and that's how I see human life, in the same way. You know, we can all be discarded quite easily…You're there, you're gone, it's a jungle out there!"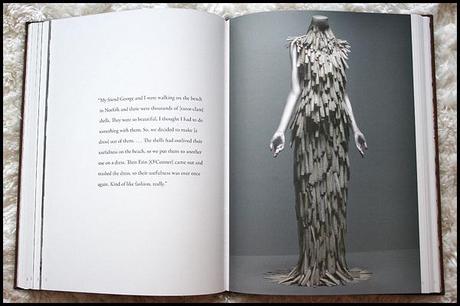 "My friend George and I were walking on the beach in Norfolk and there were thousands of [razor-clam] shells. They were so beautiful, I thought I had to do something with them. So, we decided to make [a dress] out of the them…The shells had outlived their usefulness on the beach, so we put them to another use on a dress. Then Erin [O'Connor] came out and trashed the dress, so their usefulness was over once again. Kind of like fashion, really."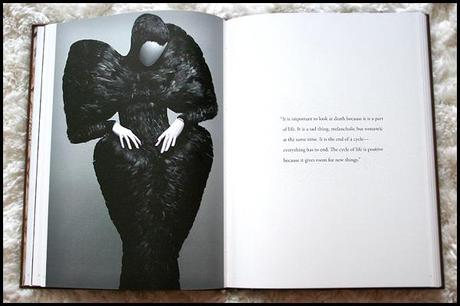 "It is important to look at death because it is a part of life. It is a sad thing, melancholic but romantic at the same time. It is the end of a cycle — everything has to end. The cycle of life is positive because it gives room for new things."
A fantastic tribute to a true artist.