Don't you love it when you accidentally discover a new favorite....anything. It could be a new designer, hobby, food, accessories, etc. This is what happened to me recently at an event. I discovered and fell in love with a handmande jewelry designer after seeing one necklace - a Copper and labradorite horseshoe necklace. The label, called 41 Stars, is the brainchild of photography and jewelry-making mom, Heather Nichols and she her pieces are available on craft store, The Craft Star. Her pieces feature classic, vintage and modern silhouettes using copper, sterling silver, and gemstones at amazingly low prices - some I still can't believe. Featured below are a few of my favorite pieces from her collection:


EARRINGS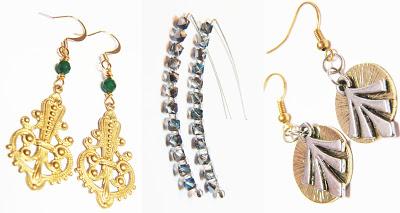 Featured above from left to right is the Gold & Emerald Filigree Earrings ($12.00)- a 2.5" long gold tone and emerald earrings, Swarovski Wire Wrapped Earrings ($20.00) - 2.25 blue Swarovski crystal wire wrapped earrings and Fan Earrings ($5.00) - 2 inch long gold and silver tone earrings.


NECKLACES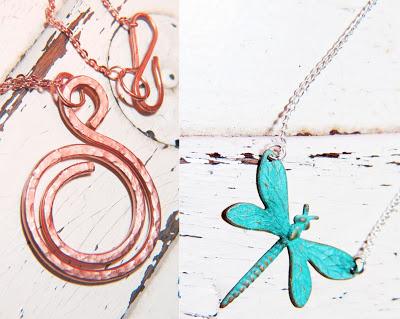 Love Rose Gold? Copper makes a great alternative like the above Copper Swirl Necklace ($20.00) - a simple hammered copper swirl necklace that measure 1.75" long and  hangs on a 17" chain, and those who love bold color will love the Dragonfly Necklace ($15.00) - a delicately sweet 1" long by 1.5" pendant on a 16.5" long silver tone chain. I absolutely love this necklace. If you're looking for a necklace that will definitely be a conversation piece, you definitely need to see the following two pieces.



Purple is the color of royalty and you will feel like a queen in the these regal-hued pieces. The Purple Feather Necklace ($12.00) features a 3.5" wide purple metal feather on a 16" gunmetal chain and the Purple Agate Necklace ($12.00) features a deep purple stone set on a bright gold background on a 16" long gold tone chain.
Love what you've seen so far? Then get these and much more for 30% off when you use code

SUMMERTIME

. To learn more about Heather and 41 Stars, check her out on Facebook -http://www.facebook.com/41starsstudio.