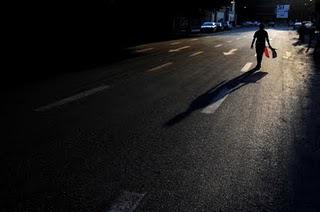 The journey to democracy is long, and often lonely. Photo credit AFP. 

Dear readers
It is a lot, right? It is hard to follow Yemen, Syria, Bahrain, Jordan, Palestine and Morocco. Hats off to Issandr Amrani of
The Arabist
, who does an amazing job of staying on top of it all, and is world famous as a result. Since I am an Africanist, with a focus on democratization, I shall confine my observations to Egypt, Libya, and Sudan.  So, back to work. Okay, what is going on?
As the Washington Post has pointed out, Egypt is in a bit of a "holding pattern," or a political stalemate at the moment as the SCAF attempts to maintain control, and the protesters attempt to push Egypt towards democracy. (AP Wire, "Arab Spring hardens into Summer of Stalemates as challenge of changing regimes becomes clearer," Washington Post, July 14, 2011). To its credit, Egypt is further along then most of its neighbors. The protesters seem clear that they want democracy.
On one of the days of the protest, a popular chant was "bring down the military junta." The response of the military was that protesters should be careful not to "[harm] national interests." (
Washington Post
, "Summer of Stalemates;
Al Jazeera
, "Deputy PM resigns,") One of the issues in Egypt is whether the SCAF, the military council currently ruling Egypt, is actually going to step down and hand over power to a civilian government. As my colleague, Dr. Jennifer Bremer--Department Chair of the Public Policy and Administration Department at AUC-- has pointed out, the SCAF is going to try to negotiate a safe exit for themselves. If they cannot negotiate a safe exit, she argues, they are not going to go anywhere.  
Today the New York Times and Al Jazeera report that Egypt will be swearing in a new cabinet, known as the "Revolution Cabinet." The new ministers, "most of whom are relative newcomers," (Staff,"Egypt's New Cabinet to be Sworn In,
" Al Jazeera
, July 18, 2011) will take the oath of office in front of Field Marshal Mohamed Hussein Tantawi. At least 15 ministers, or more than half the cabinet are being replaced. Interior minister Mansour el-Essawy, who is in charge of the police, is expected to remain.Essam Sharaf, Egypt's current Prime Minister, has accepted the resignation of his deputy, Yehia el-Gamal. Gamal had previously offered his resignation, but it had been rejected by the SCAF. (Staff, "Egypt's Deputy PM resigns amid protests,"
Al Jazeera,
July 12, 2011)
This change comes on the heels of an ongoing protest in Tahrir that has lasted since July 8, until today, July 18, 2011. The sit in has been going on for over a week now.  In addition to protests in Cairo, there are also protests and sit ins in Suez and Alexandria. Their demands include the resignation of the Interior Minister, a purge of Mubarak loyalists from the government bureaucracy, and a plan to overcome economic issues. (
Al Jazeera
, "Egypt's Deputy PM resigns"). Other key demands include an end to military trials of civilians and speedy trials of former regime officials. (Staff, "Egyptians demand post-revolution changes,"
Al Jazeera,
July 15, 2011) As one protester--Tarek Geddawy--put it, "We have a feeling the regime is still there,somehow." (Anthony Shadid, "Not Satisfied, Protesters Return to Tahrir Square,"
New York Times
, July 12, 2011.)
These protesters have staying power! You have to realize that it is above 90 degrees in Cairo, or at least 30 degrees centigrade out there at the Square, and that aside from the heat, the summer sun itself is blinding. These people mean business. Somebody bring them a drink of ice water!
It is a step forward  that there are new ministers. That means that the SCAF are listening to the people. However, it would be good to have institutions and organizations in place, so that the people could communicate their demands to the government and get a response in a manner other than staying outside for days at a time.
Since Field Marshal Tantawi is one of the key people that the protesters want out, this reshuffle strikes me as a "cosmetic repair." To use an analogy, the Revolution Cabinet is like putting a band-aid on a cancerous wound. If there is to be a true "Revolution," the old system has to be torn out by the roots. If people can live with some kind of a democratic transition, short of a Revolution, key aspects of the old government must change, and Tantawi, who is closely affiliated with Mubarak, is one of them. Tantawi was defense minister under Mubarak for two decades.  For a true democratic transition to occur, the old government of Mubarak must be dissolved, torn down, restructured and rebuilt, not merely shuffled around or shaken up.
WMB