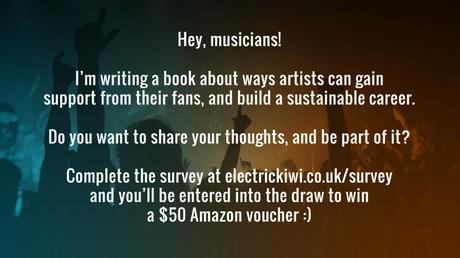 I'm currently undertaking research for a book that I'm hoping will improve the relationship between musicians and fans, and I'm looking to gauge how much support musicians feel they are currently getting from their fans, and ways that this can be improved. If you could take a couple of minutes to complete a short survey, I would really appreciate it.
If you provide your email address at the end of the survey, you'll also be entered in a draw to win a $50 Amazon voucher.
Your answers and feedback will help immensely with this new project – which in turn, should help other musicians in the future.
Take the survey here.
Thank you!