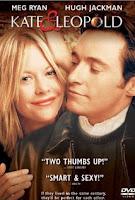 It's no wonder that music (and movies) is the blood that keeps my heart pumping, without it I cease to exist. Without it I'm nothing.
Today was a beautiful day, solely grace to one of most romantic movies of all time (solely in my opinion)
Kate & Leopold
, main characters played by
Meg Ryan
and
Hugh Jackman
. When Kate was falling asleep in Leo's arms she told him that the old man across the street before going to sleep always listen to "
Breakfast at Tiffany's
" soundtrack -
Moon River
sang by
Andy Williams
.
Then I recalled that it also was a soundtrack in the "
Sex and the City
" HBO series. Well, who wouldn't want this amazing, stunning, breathtaking and romantic song to be a soundtrack for their works of art.
Here, I present you
Moon River
.
With this song the definition of me becomes more complete, more than it was yesterday, or the day before. Playing this song, without a doubt I have the feeling like I am in heaven, like nothing bad has ever happened to me and that nothing bad is ever going to happen.
Earlier in the day I was wondering if we would have another work of art like the one and only "A Beautiful Mind" , a four-time
academy awards
winner.
This song leaves me asking my self the same question. If I were to be optimistic I would keep living with hope and certainty that such wonders will happen for sure, but I'm not.
Later, after I rediscovered Moon River I stumbled upon Susan Boyle's musical marvel at Britain's Got Talent of 2009. This is one of those videos that make me smile and laugh at the same time, if you the feeling. I almost teared up, these are moments that make me happy that well-deserving people are happy and are finally appreciated for what they are.
I was stunned. I was shocked. My jaw dropped.I also thought that you never judge a person by the first appearance, first impression,'cause it most of the cases it happens to be the wrong one. It took a lot of time for her luck to find its way to her.
I hope it's inspirational enough to finally step up and let the entire world admire you for your talent, for your genuine emotions, for your awesomeness.
Whoever they are, were or going to be, Susan Boyle or Andy Williams I always thought the world had a lot more by admiring them, by enjoying every moment listening to their music. Their music is going to live through centuries and will keep giving the comfort that many of us is looking for.
I hope you have moments like these as often as possible, moments of discoveries and rediscoveries, of any kind, 'cause moments like make your life more enjoyable and perhaps bearable for some.
Have a good day you all.
Cheers.