When I think of the word
"icon"
I immediately think of Madonna.  Being an 80's child I have been blessed to have experienced some of her transitional looks and sounds.  As much as we all love Lady Gaga, she wouldn't be who she is unless Madonna had paved the way for such diverse, artistic style. 
Madonna has always been one of those artists I'd had on my checklist of people I'd love to see live. The frustrating part was I could never get hold of tickets, or for some reason I was out of the country when she was gracing the UK.  None the less I managed to get to her one rare date at
Birmingham NIA
for her latest MDNA tour.  All day before  the show I sat at work, listening to her music thinking to myself how amazing it is that not only is she a musical icon, she also is a style icon too. This woman had tried and tested so many sounds and looks that she was clearly a genius in marketing, because her next move constantly kept us guessing.  Now into her 50's (and certainly doesn't look it) she still keeps us all on our toes.  I know we all go through changes throughout our lives, for example many of us don't dress or act as we would in our teens as we do in our late 20's or 30's.  The thing about Madonna is we've seen her go through those changes in the public eye, something I'm sure many of us would cringe at the sheer thought of.  The difference is that Madonna was such a fantastic icon, her style and vocals weren't like anything else - she was the first of anything like her.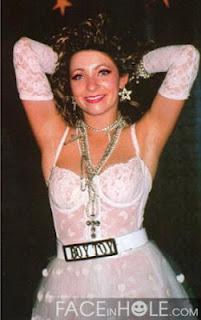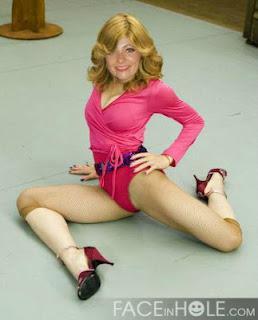 At some point everyone has wanted to be like Madonna... including me!  I reckon these look quite cool... no?!
One thing I can say, hand on heart when I think about her music, is that I appreciate each stage she visited.  Each specific inspiration she went through to gain her sound was justified.  We have honestly seen everything - but I'm pretty sure she has more up her sleeve, not only is she a talent in the musical world she is a talented business woman too.  
A miserable summer in the UK was bringing the entire country down, so the fact we had something so historic to see in the form of Madonna's MDNA tour 2012, started to brighten up the day.  Hearing tales of her previous world tours, the dance moves, the sounds and ,of course, the stage outfits, I really couldn't hold my excitement much more fto see her grace the stage.  After driving down the rainy roads of Birmingham we finally reached the NIA arena, where I felt very appreciative this show was undercover.
The eagerly awaited Madonna was due on stage at 9pm, as we know give or take ten minutes we can usually cope with but her Madgesty was over 45 minutes late.  I glanced around the arena and not even the Mexican wave could keep everyone entertained that long.  Finally after the 'technical difficulties' were sorted, the curtain imprinted with Madge's face dropped and the scene was set waiting for the lady herself to appear.  I hadn't done any reading on what to expect on this tour, I wanted to keep a complete open mind but I could tell from the off it was going to be different.  On the stage was dancers in religious style costumes and creeping into view were dancers dressed as gargoyles, who were horrifically double jointed, bending their arms in anyway possible. The dramatic religious opening seemed to go on for what felt like ages before the lady herself graced the stage, when she did the entire crowd cheered.  I'd never seen her in the flesh before and was astonished at how amazing she looked for her age, I certainly would love to be just like that when I hit my 50's!  In front of us stood Madonna, she was wearing figure hugging black trousers, and looked less 80's material girl and more sleek Bond girl.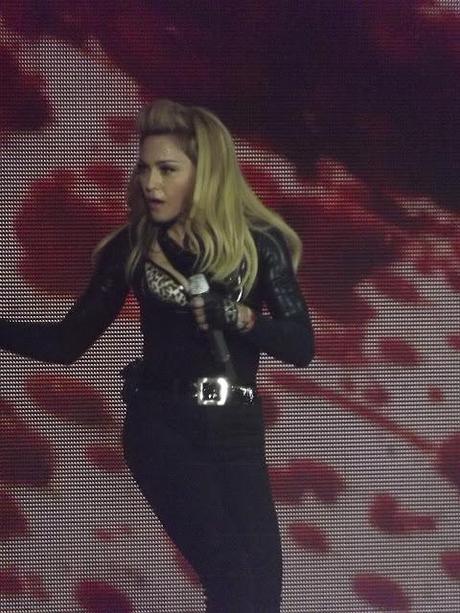 The first song she belted out was Girl Gone Wild, which was taken from her latest 12th studio album.  It was an ideal opening track as the electronic tones and upbeat feel kicked everyone into gear.  Unfortunately I can't say that about the next track Revolver.  This is one of my least favorite Madonna tracks - I feel the production is a bit too 'try hard', theres too much repetition through out and far too many tampered digital sounds.  It definitely doesn't entice your ears like other Madonna tracks can.  Whilst the Queen of Pop paraded around the stage in her black military spy ensemble, the footage projected onto the back screens were rather disturbing.  After the song had finished and s
till in keeping with the military theme, sirens and flashing red lights filled the arena, whilst Madonna and her six spies posed with their guns ready for action.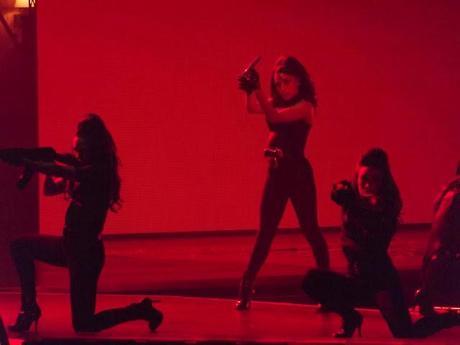 The next song was Gang Bang, to be honest I really was totally stunned by the i
mages filling the screens of meat being torn and cut, alongside splatters of blood every time a gun shot sound was fired.  Whilst this was going on Madonna was having a staged fight with one of her dancers and yelled "Die B***h" at the top of her voice.  I did have a look around and I think some of the audience were a bit stunned, as there were a mixture of ages and it just came across quite dark. The first three songs had been nothing I'd expected, it made the whole concert feel sightly pessimistic and frankly peculiar.
There were many points during the show where references to culture, religion and hot topics made an impact in imagery on stage.  Dancers wore gas masks at one point, then donned equally bizarre face masks, whether it was meant to get the crowd going who knows, but it certainly lured us in whether we were for it or not.  It certainly kept us guessing thats for sure.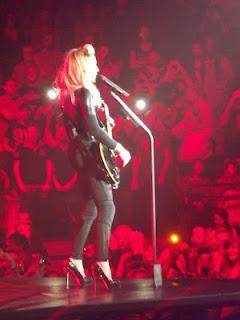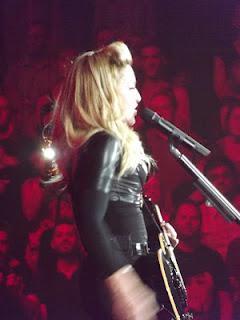 It was only when the classics started to appear into the set list, did the mood of the audience change.  We first heard Papa Don't Preach, followed by Express Yourself which, was sung as Madonna and her team were dressed as marching band.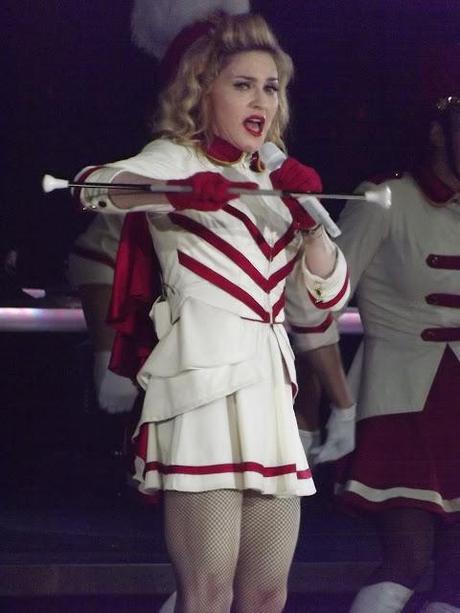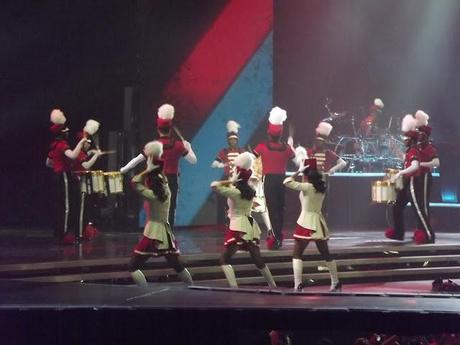 Male dancers were draped from the ceiling as many completed cheerleading routines with Madonna being thrown acrobatically . As she continued to sing
Express Yourself
, the lyrics of Lady Gaga's Born This Way started to roll out - it seemed initially with good intention until Madonna started chanting to the melody "She's not me, she's not me".  It  spoilt it to be honest, and it made it look bitter, which wasn't needed.  Other classics came out such as
Open Your Heart
, and a chic staging of
Vogue
was seen with an elaborate catwalk show. The
Vogue
set was done with looks actually used in her original music video, but it had a twist because some of the male dancers were dressed as the females.  None the less it looked and sounded on the nail.  She also decided to add in her later 90's track
Human Nature
, a song that paved the way of sounds to come. She held herself in the perfect manor throughout her dance routine in front of mirrors, and throughout this song (and entire show) the variation of stage props made the song come alive.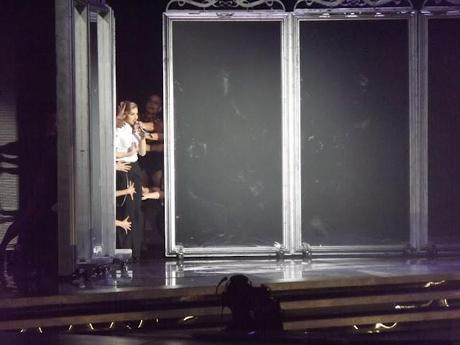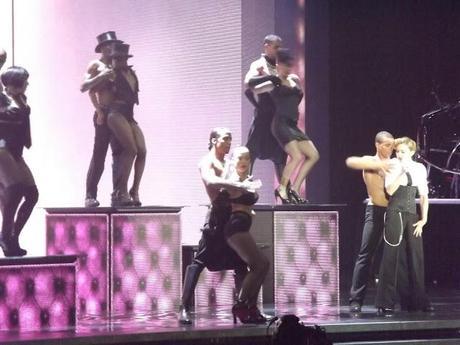 Like a Virgin
was sung whilst Madonna caressed the floor in front of a piano, it was long, drawn out and a very slow version.  It was then we saw her "No Fear" writing across her back as she was stripped down.  This track is quite the classic, and even though Madonna doesn't follow the rule book this should of been left to shine in all its original glory.   The show was full of great technical imagery, and plenty of concepts to keep the audience guessing, there was tight rope walking, and intense dance routines in which Madonna was on top form.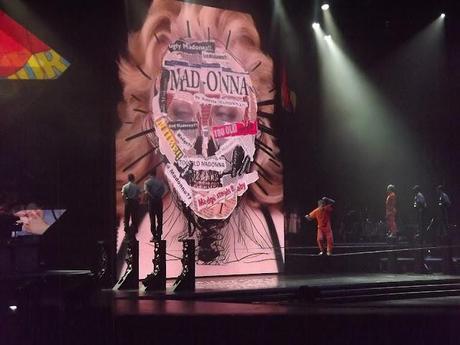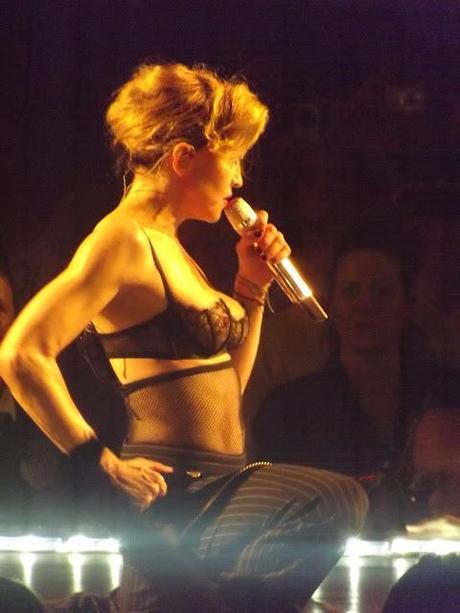 To think this woman did her first tour in 1986 is astonishing.  She's still putting on a full energy performance, with a variation of old and new.  The show was given a rendition of the classic Like a prayer with all the gospel sounds we know and adore. It was then left with an energetic performance of Celebration and the show was complete.  
The main realisation throughout the show was that Madonna has been around for a long time, she will have fans who have loved every image and sound, then there will be fans who have only liked certain parts of her career.  When putting on a tour she is never going to please everyone and this was a delicate mixture of everything.  Question is, what is she going to do next?

xoxo