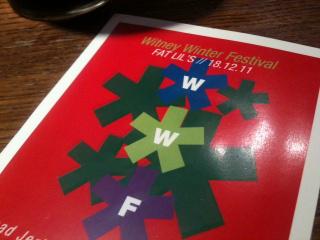 Colour Change For Camouflage
A modest turnout early on for the energetic showcasing of youthful Colour Change for Camouflage. Word on the street spoke of the exuberance and care free tenacity they've been bringing to Oxford stages over the past year so they were eagerly awaited here.
Emily, Will, Brodie, Craig and Easy make up the Witney based five piece, displaying varying hairstyles from dreadlocks to afro with  frontwoman Emily, perhaps the most sensibly presented. A vocal style accustomed to comparatively dynamic Oxfordian female fronted Baby Gravy but with unexpected elements thrown into the mix…
The most dreaded of the 3 guitarists on display Easy Chalmers brought some great Libertinesesque tone with his playing adding to what could easily have descended into chaotic yet cacaphonic noise. On the occasions that he was called on for vocal duties, like on the brilliant Fibonacci and Fractal Patterns in Nature, he brought some legitimate fire to accompany Emily Wharton's ashen vocals.
An even indier sound is found when Foals inspired and huge haired guitarist Will Healy shares vocals, softer and more accurate than the rest of the red bull soaked set and these possible variables leave a lot of scope for development. With set list on phone and playing to a handful of friends and the curiosity aroused this is still early days, but theyre tidier than could be expected and a great time.
A rare solo set from the incurably charming James Hitchman, frontman of Oxford scene heavyweights Alphabet Backwards. It should be remembered that AB did start off a solo project and so the ease with which the transformation is executed perhaps shouldn't be much of a surprise.
Taller than you might remember, the usually seated guitarist comes across with the personae of a journeyed solo artist in the vein of the lesser travelled Jack Penate or as he references later in the set, Jamie T. A comprehensive understanding of the nuances of a full band set and the subtleties of an acoustic only show he reels off his well crafted 4 minute pop melodies only broken for brief insights into his day job with the band.
Featuring songs from the band's latest offering, The British Explorer EP as well as favourites like Ladybird and In Love With the Weatherman it all flows nicely and it's as homely as the usual full band shows, it felt an honour to witness.
One of the most talked about up and comers in Oxford are the multi faceted Very Nice Harry. For the uninitiated this was a particularly unexpected change of pace going from acoustic only to this quartet's math rock and electro infused material but hey, this is Oxford- the hometown of the genre.
The vocals bring a Maximo Park style masculinity to their midsong guitar interplay which, while mesmerizing and showing a complex mastering of their tools, does take up alot of the room in the song sandwich.
Hugely promising and highly active in the local scene, responsible along with acts such as Spring Offensive, Minor Coles, Gunning for Tamar and so many more for maintaining the resurgence that Oxford has seen in recent years.
While on record, part of Empty Vessels charm was their tendency for dirty guitar and bass lines, here, in the flesh they're pretty much wallowing in them.
Two of the stand out tracks of their early catalogue, Blood on the Streets and Love is All We Need were the highlights of their stay even able to leave a couple of fan favourites out and still going down a storm.
Getting feet on the floor for the first time this afternoon this was a masterful performance from charismatic frontman Matt Greenham and his funkadelic crew. 
When I was first introduced to Deer Chicago in the summer in the lead up to truck I assumed they were an already established act such was the fluidity of their performance as well as their mere presence on the mainstage.
In a smaller room (than a field) they come across as a professional, self aware outfit more focused on showcasing their creations than indulging an ever growing audience with tales of ennui.
Fat Lil regular and spearhead of DC, Jonny Payne's style offers comparisons to Jim Lockey & the Solemn Sun, storytelling in nature with angst ridden underscoring. For three guys they produce a lot of sound but it is definitely well rehearsed sound, there doesn't seem to be any mid-song showboating to fill a couple of minutes- you feel they've got enough in their armoury to keep going and they probably will.
It's all aiming high and hitting targets here, they are superb musically, lyrically and vocally I cannot criticise anything about them, they're simply magnificent. Make sure you catch them in 2012.
The reason everyone is here today. A huge thanks for the forward thinking and initiative of this band for putting on a fantastic event and the venue for doing everything they could to make it a success. We can only hope will become an annual thing, or even a Winter & Summer event… Something to think about and something that would be hugely welcome.
So, not content with waiting for things to come to them as i'm sure they will, they've invented their own festival. Though they're the Godfathers of the event they unassumingky play support to some of their favourite acts from Oxford- the ever reliable Phantom Theory and Secret Rivals who we couldn't stay for due to work commitments (lame, I know). Without cloying too much, let's just say- Black Hatsare in the game for keeps.
Musically they're easy to listen to, rhythmic bass and drums with just the one guitar but lyrically they're challenging, in the best of ways.
Only a few levels of intensity away from being a hardcore outfit, their social commentary and focused delivery bring to mind bands like Anti-Flag and Sunny Day Real Estate but only in the very best of ways.  The most enjoyable ways.
Blood and Space is the focal point of the set as it is in their oeuvre. They've got a lot of people on the floor and a lot of people out their doors on what isn't a particularly inviting time of the season and all credit and huge thanks to them for… Everything.