Monkeys and mountains is a common (and one of my favorite themes) on this blog, but music and mountains?  This would be a first!
This past weekend I attended the Wanderbare Gipfelklaenge which translate roughly to Hiking to the Sounds of the Mountains in Mostviertel, Austria.  It's a creative and unique event that's now in its third year running. There were seven different musical groups playing at different venues, mostly mountain huts of which you had to hike to.  If you need motivation to go hiking this is seriously it! The event kicked off Friday evening with Catch-Pop String-Song, a Balkan Folk band.  It was held at the four star Hotel Fahrnberger in Göstling/Yibbs where  I also stayed there for two nights.  We (my husband and I) arrived a bit late, but enjoyed what I heard and given all the applause and encore, it's safe to say that I wasn't the only one. The main event followed the next day at Gasthause Jagersberger and opened with Saxofour, a brass quartet that was one of my favorite performances of the entire weekend! You can check them out below:
Then it was time for the hiking to begin – from now if you wanted to hear the musicians, you would have to hike to them! Saxofour teased us with a few songs, but then it was time to hike if we wanted to hear more!  Naturally we did. It was a gentle uphill on a well graded trail. And we never had to worry about getting lost because our group was ~200 people and most importantly because we had our fearless leader, Maxi: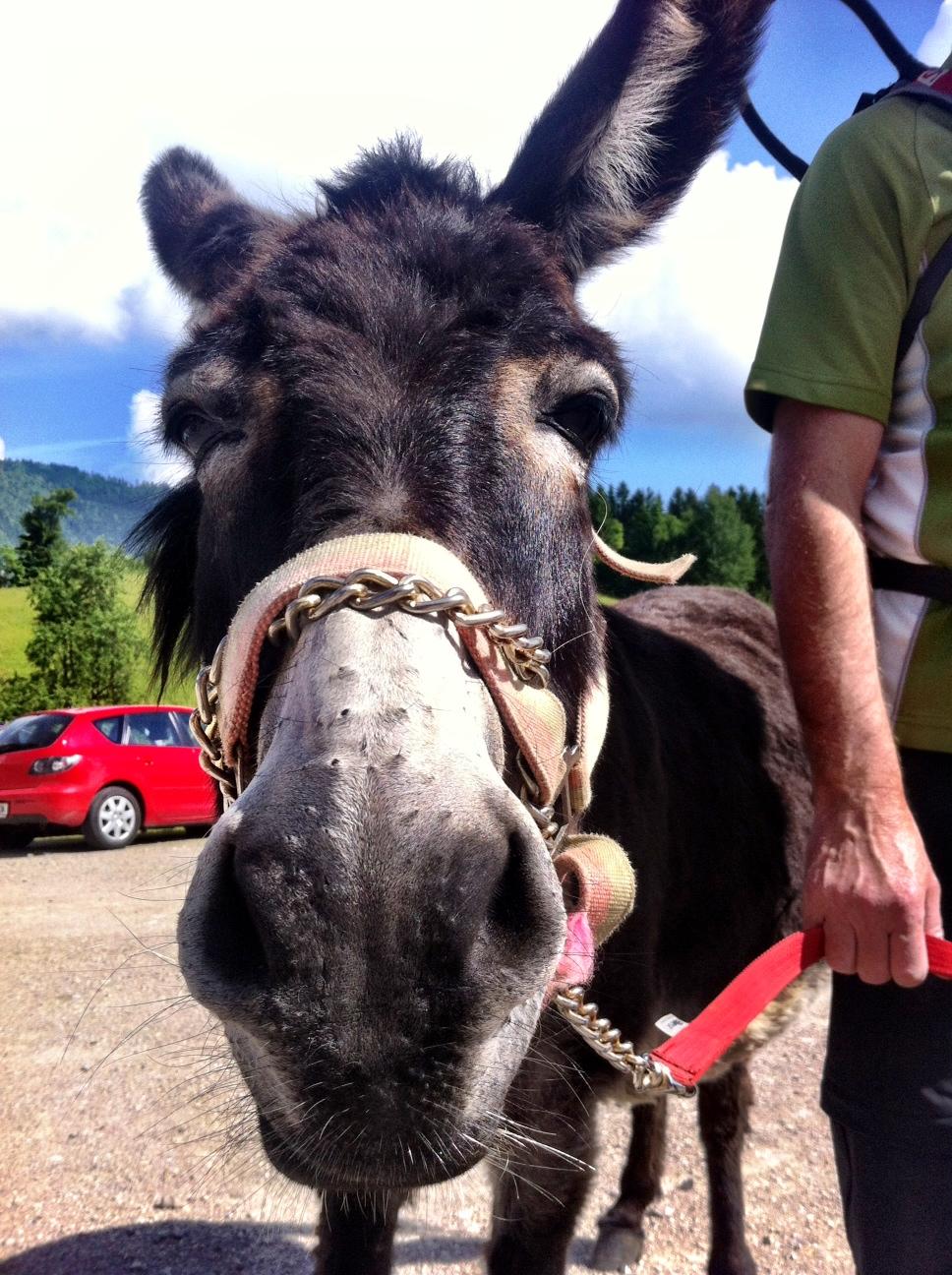 Meet Maxi, our fearless leader!
She was a strong and silent type, but wasn't opposed to praise in the form of petting her nose.  I would do a hike again with Maxi any day!   After a longer performance by Saxofour, our real work began as we headed towards Hollensteiner Bergrettngshütte, a charming hut on top of the mountain.  It became quite steep near the top, but was completely doable if you were in decent condition.  I knew I would be rewarded for my effort with a performance by Klaus Trabitsch and Insingizi, an A Capella group from Zimbabwe.
Insider Travel Tip:  Hollensteiner Bergrettungshütte makes for a great hiking destination even if you aren't rewarded with live music.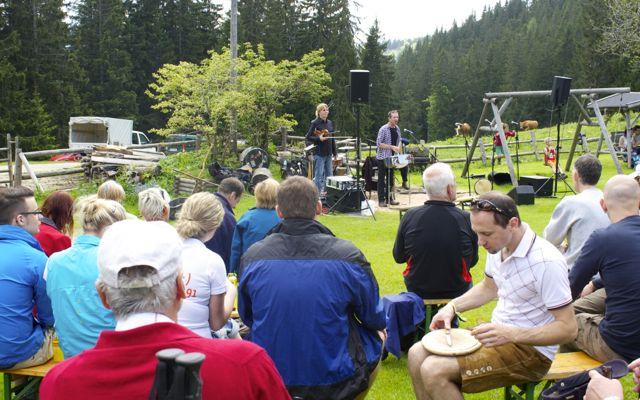 Klaus Trabitsch entertaining us and the cows at Hollensteiner Bergrettungshütte
This was my favorite performance of the entire weekend!  These guys played off of each other, could really sing, looked like they were having a blast and engaged the audience.  Does it get any better than a sing along to The Lion Sleeps Tonight on the top of a mountain?  I  think not!:
Our hard work done, bellies full and the Wimba Way rhythm in our heads, we started downhill to another performance by Klaus Trabitsch and Insingizi.  Unfortunately this one was the shortest performance of the entire weekend – it started pouring several minutes after they started playing. Ever the professionals, they promised to make it up to us at our next step at Peter Jagersbergers Küche – which fortunately offered indoor seating.  Several coffees and schnapps later, I found myself singing along again. We ate dinner here knowing that Florianer Tanzlgeiga, a group that plays Austrian folk music would be playing.  To say that Florianer Tanzlgeiga is an expressive group would be an understatement. They had people up and dancing on the first song!  I declined.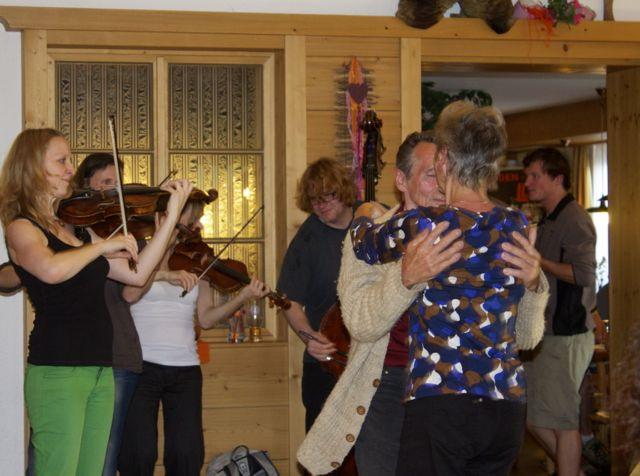 This cute couple was the first to get up and dance to Florianer Tanzlgeiga.
This is a country that does the Vienna Waltz every year on New Years Eve, which as I learned from doing it at my wedding is more difficult than it looks.  Austrians can definitely dance – and they would put this Canadian to shame!
Sunday started right outside the Hotel Fahrnberger and with a bang from the St. Georgen am Reith band.  From there we continued 30 minutes to the Erlebniswelt Mendingtal, in which is a museum with displays about logging (all in German).  Next was a 3km relatively flat pathway through a gorgeous bridge covered gorge. It was stunning – crystal clear water!  (Post to follow).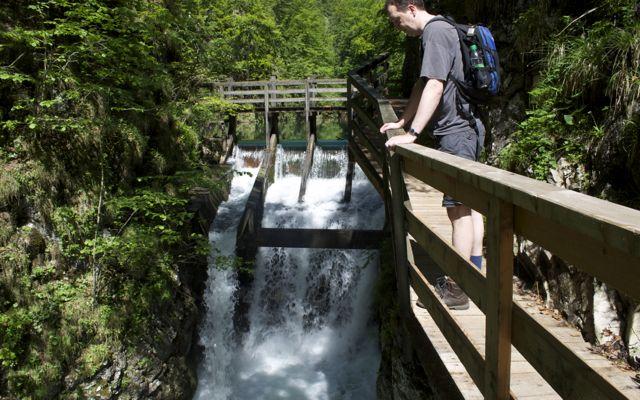 Beautiful hike along a gorge and historic logging route.
Insider Travel Tip:  The path from Erlebniswelt Mendintal to Hammerhrrengasthaus is a beautiful hike that can be down throughout the summer and is very family friendly due to its 3km length and flat path).
As I was hiking it for a special event, traditional wood cutters demonstrated how they moved logs down the river back to the museum where they would be processed.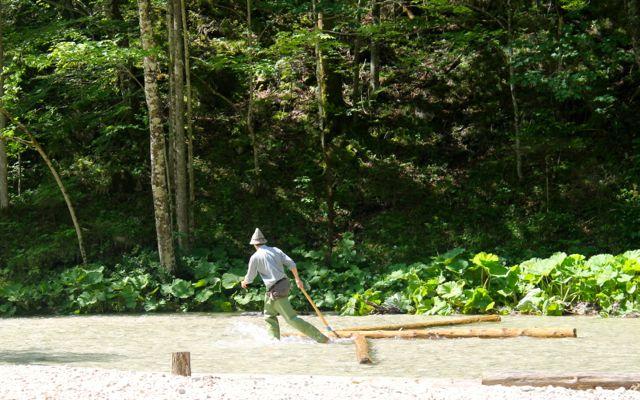 Re-enactment of traditional logging in Mostviertel.
It looks like really hard work! I wasn't ready for the hike to be over when we arrived at the Hammerherrengasthaus for lunch and a closing performance by Tini Kainrath and Band. She performed a series of songs in English and while she was OK, she didn't connect with the audience the same way the earlier groups had. Still not having had enough of the gorge, J.P. and I decided to hike it back to the Hotel Fahrnberger.