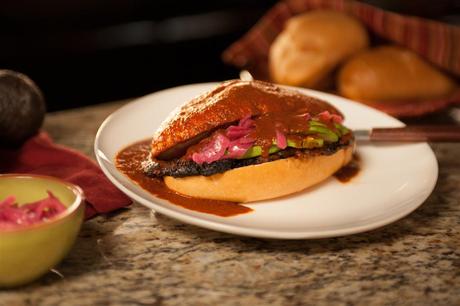 Course: Main
Number of servings: 4
Difficulty: ◊
Preparation time: 60 minutes
Cook time: 60 minutes
For the mushrooms and rub
* 8 portabella mushrooms, or 2 pounds
button mushrooms, sliced
* 1 tablespoon salt
* 3 tablespoons brown sugar
* 2 teaspoons cayenne pepper
* 1 tablespoon black pepper
* 4 tablespoons paprika
* 1 tablespoon onion powder
* 1 tablespoon garlic powder
* ¼ cup olive oil or grapeseed oil
For the ahogada sauce
* 1 (28 oz.) can of LAS PALMAS Red Chile Sauce
* 12 ounces vegetable stock, or vegetable broth
* 4 garlic cloves
* 8 cascabel chiles, dried, or 6 guajillos, dried
For the pickled red onion
* 1 cup apple cider vinegar, or distilled
* 1 large red onion, or 2 small red onions
* ¼ cup white sugar
For the bolillo
* 4 bolillos, fresh and sliced in half
For the garnish
* 1 bunch of cilantro, washed and freshly chopped
* 4 limes, quartered and deseeded
To kick it up!
* 2 avocados, sliced thin
1. For the mushrooms:
* Clean the portabella or button mushrooms by using a spoon to remove the gills from beneath the mushrooms.
* Once all the mushrooms are clean rinse gently with cold water and set on a paper towel to dry.
* Mix salt, brown sugar, cayenne pepper, black pepper, paprika, onion powder, and garlic powder in a bowl. Once all the spices have been married, drizzle in the olive oil or grapeseed oil with a whisk making sure the spices don't clump up.
* Now that the rub is made evenly coat all the mushrooms with the rub and set in refrigerator for at least one hour.
2. For the ahogada sauce:
* In a small sauce pan place the LAS PALMAS Red Chile Sauce, vegetable stock, garlic cloves and cascabel chilies (if you would like a milder sauce deseed the cascabel chilies).
* Bring to a simmer for about 15 minutes or until cascabel chilies are soft.
* Puree all ingredients in a blender and return to sauce pan. Season the sauce with sea salt to your desired liking.
3. For the pickled red onion:
* In small sauce pan, place the apple cider vinegar and sugar, on medium heat and bring to a simmer until sugar is dissolved.
* Slice the red onion into thin half-moons and place into a small non-corrosive container (glass or plastic). Pour the hot pickle liquid over the onions, set aside. This step can be done up to a week in advance. Pickled red onions can be kept refrigerated in an air-tight container.
4. Building the tortas:
* Preheat grill on medium to high heat.
* Bring out mushrooms from the refrigerator set them on a dry paper towel to absorb excess moisture.
* Place on hot grill and cook for about 4 minutes on each side (medium). Note that the brown sugar in the rub will char and mushroom will start to burn on edges, you want this!
* Remove the mushrooms from the grill and place inside the freshly sliced bolillo. If you are kicking it up, then this is the time to place your thinly sliced avocado. Using a large spoon cover your torta with the salsa ahogada.
* Garnish with the pickled red onions, freshly chopped cilantro and limes. This is a torta to enjoy with a knife and fork!