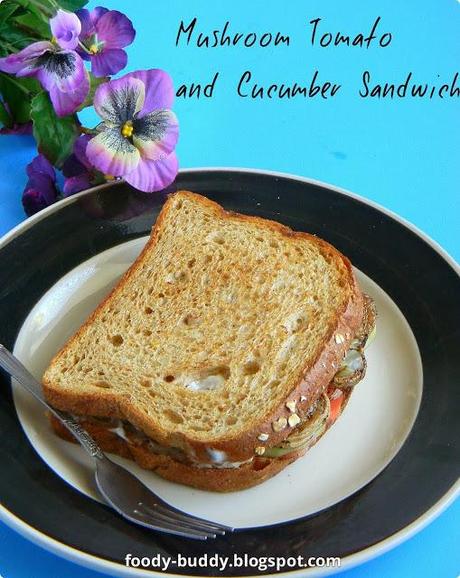 I start most of my days with sandwiches with vegetable fillings and this is one of among them. This is very easy and quick to fix sandwich with mushroom, tomato and cucumber as filling, for flavoring, I added Italian seasoning, salt and pepper. Sandwich has no cheese in it and I used whole wheat bread, so this is very healthy and filling sandwich that can be made in minutes. You can have this no cheese sandwich for breakfast or lunch or dinner.
Preparation Time : 10 Mins
   Cooking Time : 10 Mins
     Makes : 1 Sandwich
Ingredients
         2 Whole Wheat Bread
         6 Slices of Mushroom
         4 Slices of Tomato
         4 Slices of Cucumber
         2 Tbsp of Chopped Yellow / Red Onion
   1/8 Tsp of Italian Seasoning
   2 Tbsp of Mayonnaise, I used Vegennaise
         Dash of Salt and Pepper
         Red Wine Vinaigrette to taste
         1 Tsp of Olive Oil
Method
Wash and slice the cucumber, tomato and mushroom. Finely chop the onion.

Heat olive oil in a pan, add onion, mushroom, salt, pepper and Italian seasoning, saute this for 2-3 mins in a medium high flame, until it turns mushroom turns soft. Once it done, turn off the flame.

Toast the bread in a toaster or cast iron pan.
For The Sandwich Build
Apply mayonnaise or vegennaise on each side of the bread.

Place the sauted mushroom and onion, cucumber and tomato.

Assemble your sandwich by gently pressing the two slices of bread together.

Yummy sandwich is ready to serve.
Tips 
You can use wheat bread or white bread(maida)

You can use chopped lettuce to this sandwich.

Use sharp cheddar cheese or earth balance (dairy free-vegan option) for more richness and creaminess. 

Use butter in place of olive oil.
Health Benefits of Mushroom, tomato and Cucumber Sandwich
Whole wheat bread are rich in fiber, reduce the risk of cardiovascular disease and diabetes.

Mushroom are rich in protein, vitamin B, D and antioxidants, boost your immune system.

Tomatoes are rich vitamin A,C, K, beta-carotene, a natural cancer fighter and good for skin.

Cucumber re-hydrates the body, good for skin, aids in weight loss and fight against cancer.
Rich in fiber, helps in proper functioning of digestive tract and lowers the cholesterol and metabolic syndromes.
Reduce the risk of cardiovascular disease

Read more at http://foody-buddy.blogspot.com/2013/09/whole-wheat-bagels-how-to-make-bagels.html#trLQpp37hDxhA0TY.99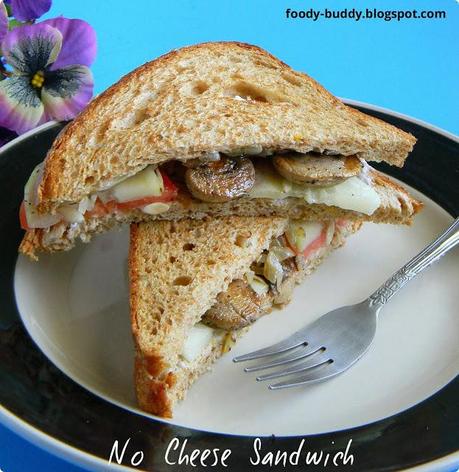 Tags : sandwich, no cheese sandwich, quick and healthy vegetarian sandwich, mushroom sandwich, mushroom, tomato and cucumber sandwich, how to make vegetarian snadwich breakfast ideas