I got the inspiration from a video that I saw in FB and I knew right away that this dish of Mushroom in white wine sauce, will be enjoyed by the family  as we love mushrooms.
Perfect timing too as I have balance of some white wine left from last night party, I thought this will be a wonderful idea to finish up the wine.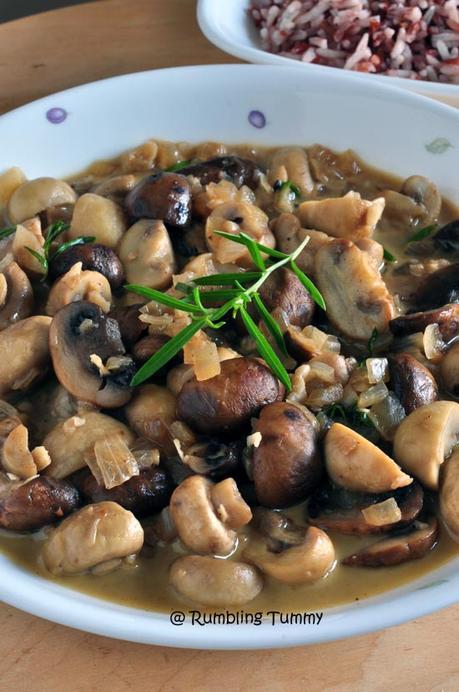 What you need:
1 punnet of white mushroom (250g)
1 punnet of brown mushroom (250g)
6 cloves garlic, minced
1 med onion, diced


½

 cup white wine
1 tbsp lemon juice
2 tbsp butter
salt and pepper to taste
Method:
Clean mushroom and cut into halves.
Heat pan and add in butter and onion.  Saute until onion turn soft.
Add in garlic and saute until fragrant.
Add in mushrooms and lemon juice.  Mix well.
Add in white wine and bring to a boil.  Lower heat and let it simmer until mushroom turned soft.
Season with salt and pepper.
Enjoy!If you have enjoyed this post by Rumbling Tummy, be sure to follow this Rumbling Tummy on Facebook, Instagram, Pinterest, Twitter and Google+.