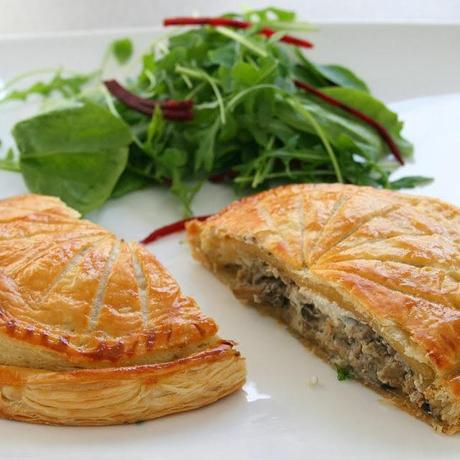 In exactly one week my dearest younger sister will be boarding an airbus and making her way from Old Blighty down to Cape Town. It has been two and a half years since I last saw her and to say that I am excited could be the understatement of the year! The prospect of having the whole family together to celebrate Christmas fills me with glee and over the past few weeks I have been poring over my cookbooks looking for inspiration for the feast I will be preparing for everyone on Christmas Eve.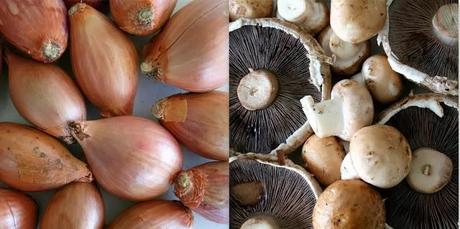 My menu this year is fairly simple, with one tiny consideration. Aforementioned dearest sibling is a vegetarian. While thinking about meat-free options I came across a recipe in an old foodie mag which inspired me, and I thought it might be useful to those of you who, like me, are catering for veggie-inclined guests this Christmas. It's called a pithivier. 
"A pithy-what-now" I hear you say? 
My French is a little rusty these days, so why don't we just call it a posh pie for now, eh? Essentially that is what it is, two puff pastry rounds enclosing a delicious filling. 
The recipe I came across was for pithiviers with a creamy pea filling, but I decided to take the idea and change it up to include mushrooms, herbs and chevin instead.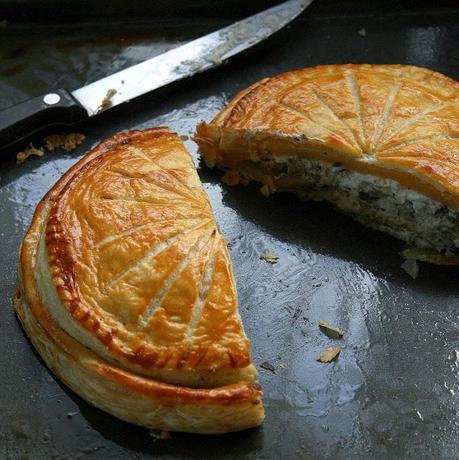 This is a rich dish, but very delicious. The great thing is that the filling can be made in advance and kept in the fridge until needed, which is exactly what I will be doing on Christmas Eve! I found that a 15cm pithivier is just right for one adult serving, but feel free to try different sizes if you wish.



_________________________
MUSHROOM & CHEVIN PITHIVIER
Serves 4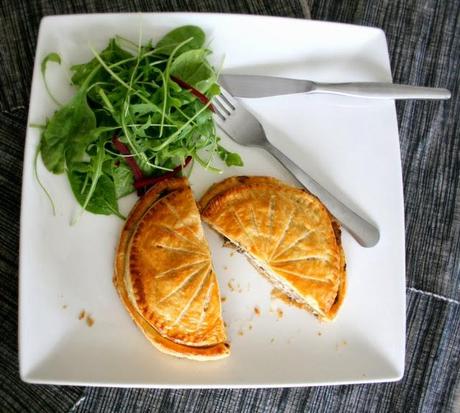 1 tbsp butter
2 shallots, finely chopped
2 cloves garlic, finely chopped
250g brown mushrooms, sliced
250g portabellini mushrooms, sliced
125ml white wine
125ml vegetable stock
1 tbsp cream
2 tsp chopped parsley 
1 tsp chopped thyme
salt
pepper
700g ready-rolled puff pastry 
1 egg, lightly beaten
150g smooth cream cheese
75g soft chevin
Step 1.) Melt the butter in a large saucepan. Add the shallots and gently fry for 2 minutes to soften. Add the garlic and mushrooms and fry for a further 3 minutes.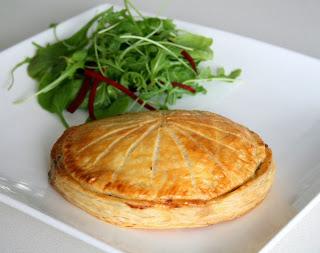 Step 2.) Add the white wine and vegetable stock. Cook over a medium heat until almost all of the liquid has disappeared. 
Step 3.) Turn the heat down to very low. Add the cream, parsley and thyme. Season with salt and pepper and cook for 2 minutes. Remove from the heat and set aside to cool. Preheat your oven to 200
°C and grease a baking tray. 
Step 4.) Cut 8 x 15cm circles out of the puff pastry, (I use a side plate as a guide). Place 4 of the circles on the greased baking tray and brush the edges with egg. 

Step 5.) Mix 
the
cream cheese
into the mushroom mix, then spoon onto the middle of the pastry circles. Break the
chevin
into small blobs and dot these over the top of the filling. Cover each one with another pastry circle and use a fork to crimp the edges and seal the pithivier. Use a sharp knife to score a pattern on the top, then brush with egg. 

Step 6.) Pop the pithiviers into the oven for 25 - 30 minutes, or until puffed up and golden. Serve immediately.