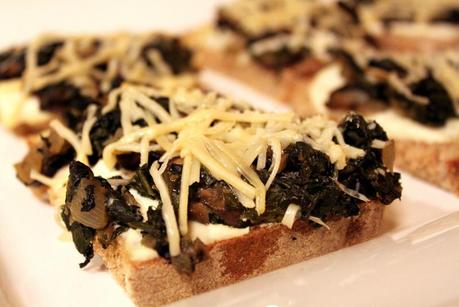 Mushroom and Spinach Tartines.
Doesn't that just sound like some kind of exotic treat you'd get in France?
"Tartine" is actually a fancy bread with either a sweet or savory spread on top, often found in France. It sounds fancy, but it's basically an open-faced sandwich. It also happens to be the name of one of my favorite bakeries in San Francisco.

In the spirit of incorporating more whole grains into my diet, and my recent partnership with Sunbites, I decided to post this great recipe for a healthy take on the traditional Tartine.
It seems like a bit of an odd pairing of ingredients, but I promise it tastes delicious. The secret is lots of garlic, and a great crusty bread. This dish was inspired by a recipe I found on VegetarianTimes.com. I made a few modifications, so my modified recipe is below. To all of my Sunbites readers, I hope you enjoy this recipe! Don't be thrown off by the addition of tofu into the spread: it provides a great protein punch, and it doesn't taste like tofu at all!
This is the perfect recipe for a simple, weekend supper but it can also be used as an appetizer for parties.
The Ingredients
6 oz. soft tofu, drained
6-9 cloves roasted garlic (I say the more garlic the better, but if you're not a garlic lover like I am, go with 6 cloves)
1 1/2 tsp. olive oil

10 oz of sliced crimini mushrooms

1 yellow onion, diced

6oz-10oz fresh baby spinach
1-2 Tbsp freshly grated Parmesan cheese per tartine (so if you're making 8 tartines, that's 8-16 Tbsp total)
1 whole-wheat baguette, sliced lengthwise and toasted
The Directions
Step 1: Roast the garlic. This is very easy to do: simply trim the tops of whole garlic bulbs to expose the cloves, set on a piece of foil, and drizzle with olive oil (about 1 tsp).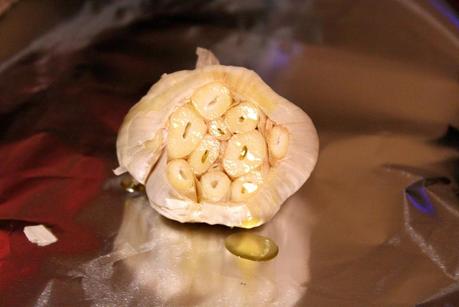 Step 1 (continued): Wrap the garlic tightly in foil, and bake 30 to 35 minutes at 400°F, or until garlic bulbs are soft. When it's done, it looks like this: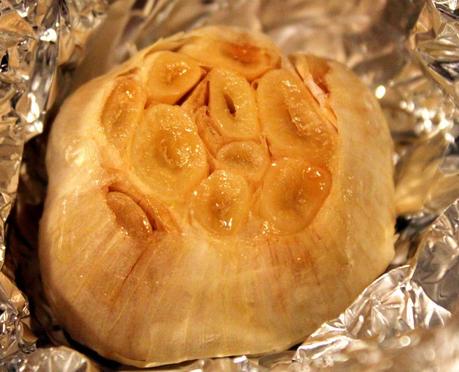 Step 2: Place tofu and garlic in blender or food processor, season with salt and pepper, and blend until smooth.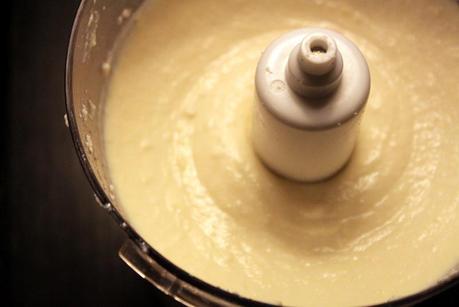 Step 3: Heat oil in skillet over medium heat. Sauté mushroom and onion 3 to 5 minutes, or until softened.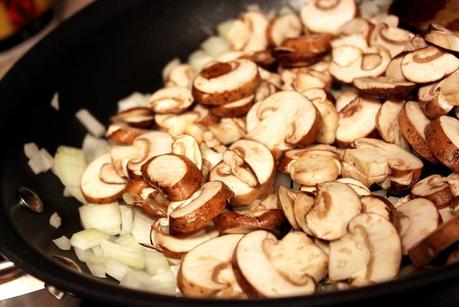 Step 4: Stir in spinach, and sauté 2 minutes, or until wilted. Add 1 Tbs. Parmesan cheese to pan, and remove from heat. I also added salt and pepper to taste for more flavor.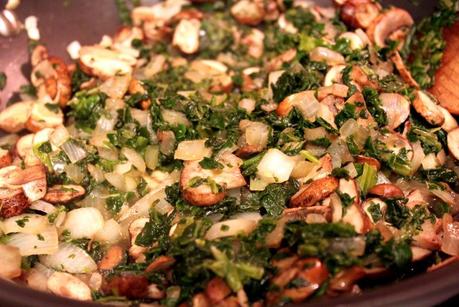 Step 5: If you have any roasted garlic left over, spread one clove over each baguette half. Top with tofu-garlic spread, then with mushroom-spinach mixture, and sprinkle with remaining Parmesan cheese. Toast under broiler 1 to 2 minutes, or until cheese begins to brown. I also added a bit of salt and pepper on top (just a sprinkle) for extra flavor.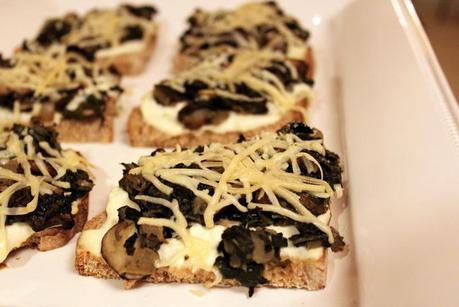 Doesn't that look delicious? If you're eating this as a meal, I'd serve it with some light tomato soup to make it more of a well-rounded and filling dinner. As an appetizer, it can be served by itself.
Either way, it is extremely healthy for you! It's full of whole grains, fiber from the vegetables, and protein from the tofu and cheese. 1 tartine has ~300 calories, 14g protein and 12g fiber (which largely depends on the amount of fiber in your baguette). Dig in!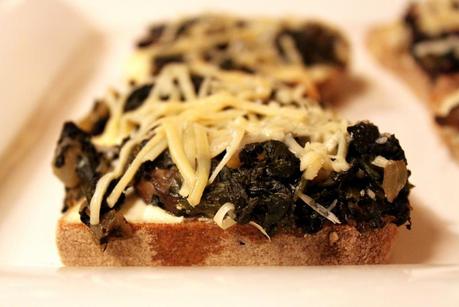 . . .
If you liked this post please:
- 
Subscribe to The Picky Eater
- 
Follow The Picky Eater on Twitter
- 
Follow The Picky Eater on Facebook
-