My kids love pasta especially my son.  They started off with lasagna, meatball spaghetti and subsequently carbonara and since then, carbonara got stuck there.
For an alternative choice, today I did spaghetti aglio e olio topped with mushroom and bacon (both my family's favourite).
Am glad that Mushroom and Bacon Pasta turn out good.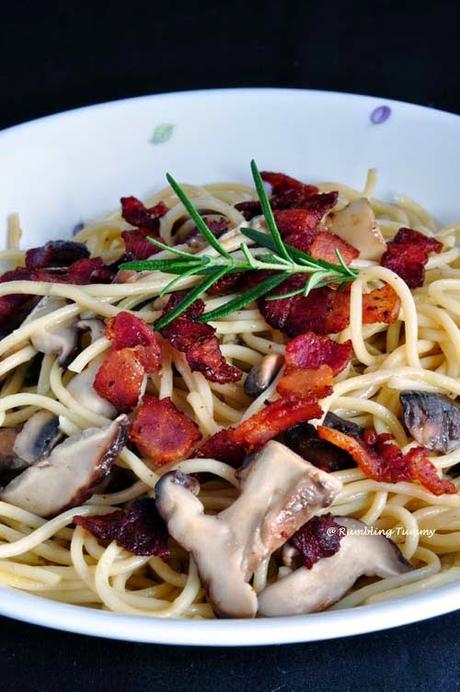 What you need:
500g mushroom, sliced
10 clove garlic, minced
500g bacon, diced
½ cup white wine
a sprig of rosemary
Salt and pepper to taste
½ - 1 cup pasta water
400g pasta
Garnish with Parmesan cheese
Method:
Fry bacon until it is crisp.  Drain and set aside.
Bring to boil a big pot of water, add in salt and a drizzle of olive oil.  Add pasta and cook until it is al dente.
Meanwhile, heat pan to very hot, add olive oil.
Add in the minced garlic and saute until fragrant and a light golden.  DO NOT BROWN it.
Add in sliced mushroom.  Mixed until it is well combined with garlic.
Add in white wine and rosemary.  Bring to a boil or until mushroom soften.
Remove pasta from water, set aside ½ – 1 cup of pasta water.  
Add in the cooked pasta into the mushroom sauce.  
Add in ½ cup pasta water.  Mix well.  
Season with salt and pepper.
Before serving add in the bacon as we like it still crisp. 
Garnish with Parmesan cheese. 

Are you looking forward to end of school term?  I do.