Tell me what you eat, I'll tell you who you are.  ~Anthelme Brillat-Savarin
Crunchy Munchy goodness.....
So how was your weekend? Hope you all are enjoying a ton!! We had a good one too. Heres another yummy crunchy treat.  Murukku is a very popular South Indian snack. Here is a very easy and tasty recipe  to make crispy and crunchy murukkus. Enjoy it with a cup of coffee.....  I bet you cant eat just one!!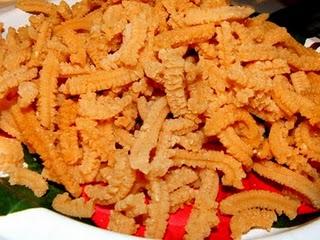 Ingredients:
Rice flour – 4 cupsPottu Kadalai /Roasted Gram Dal/ Fried Gram Dal – 1 cupMelted Butter  – 2 tbspCumin seeds- 2 tbsp
Sesame seeds- 2 tbsp
Asafoetida a pinch
Salt to taste
Procedure:
In a blender, smoothly powder the fried gram dal.

 In a mixing bowl mix all the ingredients together by adding enough water to make a tight dough, dont use too much water.

Heat enough oil to deep fry, once it is hot, stuff the dough in the murukku press and press it into the oil directly.

Deep fry both sides until golden brown. Drain on a paper towel , cool and store in a air tight container. It keeps well for weeks.