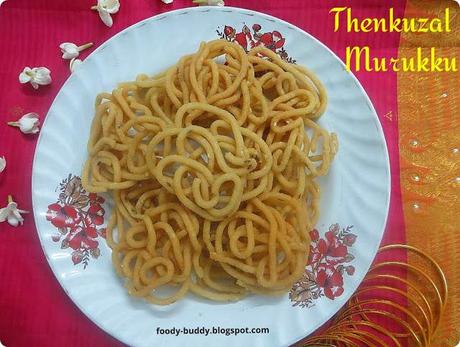 தேன்குழல்  முறுக்கு 
        Murukku means "Twisted" in Tamil Language. Murukku is a south Indian savory snack of crispy and crunchy in taste, made from rice and urad dal flour. You can make murukku in different ways with rice as main ingredient. Varieties differs by the addition of gram flour or roasted gram flour or urad dal flour or peanut flour in addition to rice. I already posted mullu murukku recipe in my blog.
 This Thenkuzhal Murukku recipe is one of my childhood favorite snack and my mom makes the best murukku for diwali. I wanted to post this recipe for long time but I don't have the murukku plate, so I asked my mom to make this murukku for 
my blog
. B

elow murukku 

recipe

 is made by my mom and she also send some pictures of 

the recipe

 taken by my sister in law (subha). 

Thank you amma and subha for this tasty 

recipe

 and mouthwatering 

photographs

..Try this thenkuzhal murukku for diwali and enjoy :-)
     Ingredients
            1 Cup of Rice Flour
            1/4 Cup of Urad Dal Flour
            1/2 Tsp of  Whole Cumin Seeds
            1/2 Tsp of Sesame Seeds
            Pinch of Asafoetida (Hing)
            1 Tbsp of Hot Oil
            1 Tbsp of Butter
            Salt and Water as needed
     Method
In a bowl, add rice flour, urad dal flour, whole cumin, sesame seeds, asafoetida, butter, hot oil and salt, mix well. Add water little by little to form a soft, non sticky dough without any cracks.

Heat oil in a heavy bottomed pan to deep fry the murukku.

Grease the murukku press with oil, place the murukku plate in the press, then place the dough. 

Grease the ladle with oil, press the murukku press to make murukku over the laddle in the form of circle.

To test the oil, just drop a small ball of dough, if it rises up, your frying oil is ready.

Drop the murukku from the laddle into the hot oil, fry them in medium flame until it turns golden color.

Cook both the sides until  "Sssh" sounds goes off. Take the murukku carefully from pan, drain them in paper towel, let it cool down for sometime and store it in an airtight container.
 Tips
Here I used store bought rice and urad dal flour.

Butter gives a nice flavor and taste.

Addition of hing is for easy digestion.

Make sure you keep the dough covered throughout to avoid  drying of the dough.

If your murukku is hard, then the amount of oil is not enough in the dough.