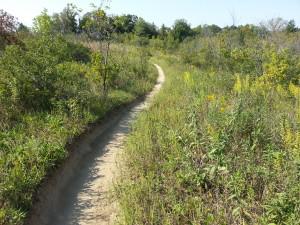 Over Labor Day Weekend I decided to get some mountain biking in while it was still officially summer.  Some people from work told me about a great single track mountain biking trail at Murphy Hanrehan Park.  This park is located southwest of Burnsville and the parking lot for the head of the biking trail can be found here.
This park has a total of about 10 miles of single track mountain bike trails which curl through the woods.  Here is the Murphy Hanrehan mountain bike trail map which outlines the whole route.  If you've never been to trails like this before, the standard equipment for the trip is a solid mountain bike that can take some good bumps, a helmet in case a tree jumps out at you and some gloves to avoid blisters.
Once you park at the trail head, you cross the road and start off on the "easy" section of the trail.  This loop winds through a meadow with a well packed down trail which included a few bumps in it and in total is a little under a mile long.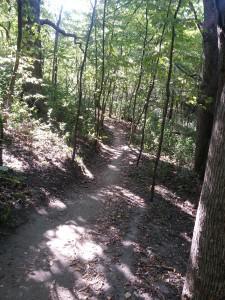 Once you go past quarter mile marker 52, you can enter the "intermediate" loop which is a total of 2.3 miles long.  At this point, the trail leaves the meadow and starts weaving through the woods.  This section features a few bumps in the trail with some rocks and tree roots but overall was a smooth ride where you could really pick up some speed.
There were multiple times where I would come cruising around a corner and have to hit the brakes hard to avoid a tree.   I was really surprised how good of condition the trail was in after a full summer of use which allowed for some high speeds and tight corners.  Also due to the smooth trail, you could ride a little quicker than other trails I've been on since you don't have to worry as much about your tires leaving the ground from some bumps.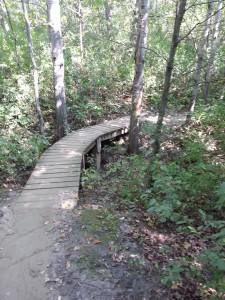 Once you cross quarter mile marker 58, you'll come to a section of the trail where you can either continue on the intermediate section back to the trail head or start on the 6.9 miles of advanced trails.  This section of the trail isn't really well marked so make sure the next marker you see 59 if you want to continue on to rest of the trails.  If you want to turn back, the next trail marker you should see is 86.
While these trails are called advanced, they really aren't much more technical than the intermediate section.  Most of the trail is still well packed and include a few cool bridges like the one pictured to the right.  There were also a few tighter corners where trees provided some obstacles to completing the turn.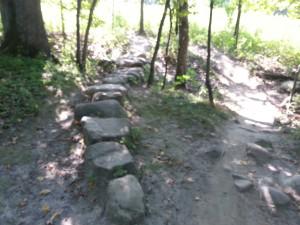 This section also includes some technical sections that you can choose to do or bypass them on the normal trail.  Most of these sections were well marked and the ones that I tried were a lot of fun.  The picture to the left was a rock trail that can test your bike's suspension.  The wooden bridge below initially caught me offguard since I didn't realize that it stepped down multiple times but was another fun section to ride.  The long wooden ramp at the bottom of the post could test your balance and control if you have to courage to try this skinny route out (I didn't:).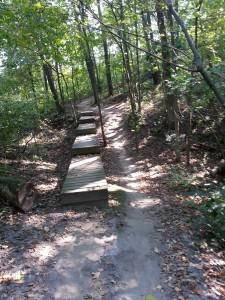 Through the course, there were a couple of times where I wasn't sure I made the right corner so make sure to keep track of what marker number you are on.  If you want to do the whole course, the markers will continue going up so you'll know if you made a wrong corner.
Once you get past marker 78, you can either take a short cut to the right which helps you cut off about half a mile but I'd recommend staying to the left.  From marker 79 to 83, I found that you could really cruise through the course which was probably the fastest speeds I was able to achieve.  Actually, on one section I managed to bottom out my back suspension from going through a sharp incline at high speeds.  After finishing up the advanced section, you'll have a couple short jaunts through the rest of the intermediate and easy loops which will take you back to the trail head.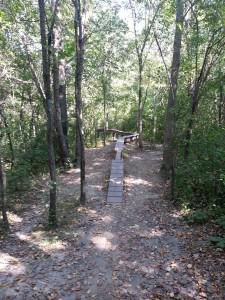 Overall, I loved this trail since it allowed some really high speed riding while winding through a beautiful park.  This trail is definitely not as technical as the Lebannon Hills trail so if you're looking for continual rocks, stumps and logs in the trail then you'll probably like Lebannon better.  Personally, I enjoyed the speeds that you can achieve on this course due to the smooth trail and had enough turns, hills and trees to continually keep me interested.  The park is beautiful and you'll forget that you're just half an hour from a major city.  If you haven't been on this trail before, you've got to try it out!
Joe