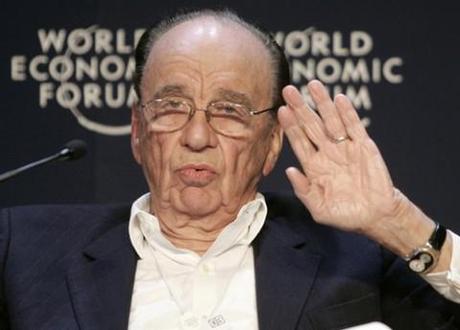 Sound like pie. Photo credit: World Economics Forum
Rupert Murdoch's testimony at the phone hacking inquiry on Tuesday was paused after a pie-wielding protester attacked the media baron. The highly anticipated Culture, Media and Sport Select Committee was halted after the attacker rushed Murdoch, who was facing a grilling at the time, armed with a shaving foam pie. He was stopped, however, by Murdoch's wife, Wendi Deng, who, clad in a fetching pink jacket and black skirt, stood up and appeared to deck him.
The assailant, calling himself Jonny Marbles, was escorted from the public hearing in handcuffs and Deng has emerged as the whole circus's star. Jon Craig, Sky News blogger who was in the room at the time, reported that "MPs on the committee praised Wendi's swift and brave action." Continued Craig, "'She was brilliant!' one member of the committee told me. 'You don't mess with Wendi, clearly!'"
This actually happened. The best part is that there's more inquiry to come.
More on phone hacking:

Murdoch and crew appear before committee hearing
Phone hacking storm gathers pace: Rebekah Brooks arrested, Paul Stephenson resigns
Brooks (finally) resigns
Hackgate scandal spreads to US
News Corp pulls plug on BSkyB deal
Axed News of the World staffers hit Brooks with parting shot via final edition crossword
Hugh Grant turns the tables on The News of the World